Pac-12 tournament in Las Vegas to close to public
Updated March 11, 2020 - 10:50 pm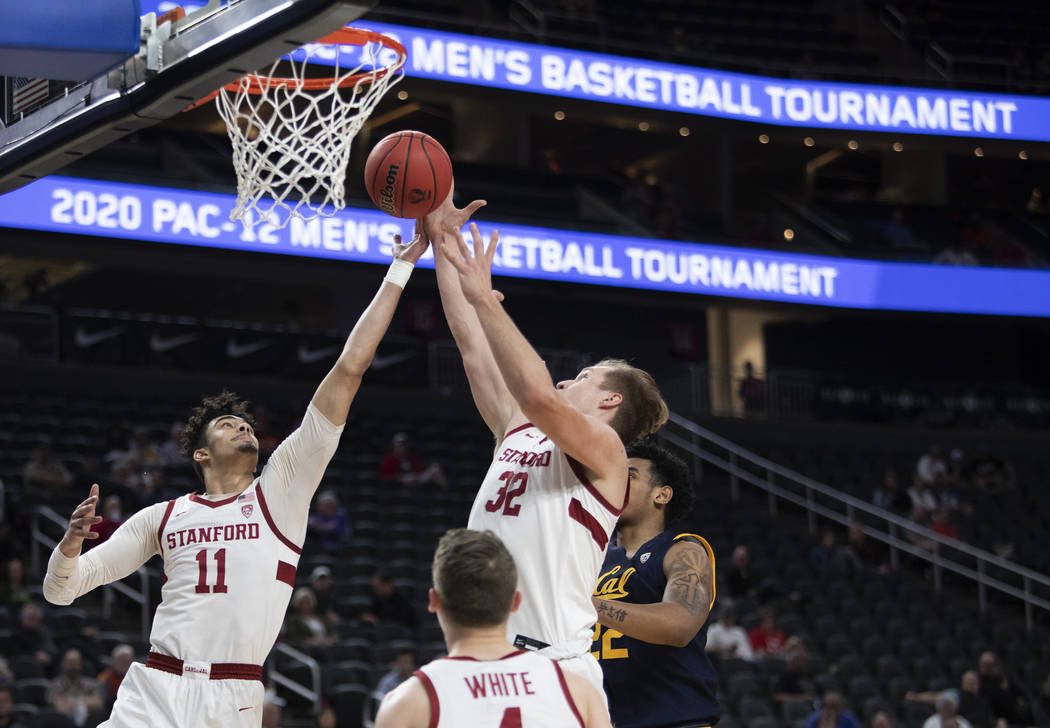 The Pac-12 announced Wednesday that it was closing the rest of its conference tournament at T-Mobile Arena to spectators other than some family and friends because of concerns about the spreading coronavirus.
The league made its decision after other conferences announced throughout the day that their tournaments were being closed to most spectators and the NCAA issued a similar statement regarding its men's and women's tourneys.
The Pac-12 tournament opened with a four-game schedule in front of fans Wednesday. It runs the next three days with its championship game Saturday.
"While we understand the disruption this will cause to our many fans," the Pac-12 said in a statement, "we have made this decision in an effort to do our part in helping limit the spread of the virus and in the interest of the health and safety of our student-athletes, campus communities, working and volunteer event personnel and all those who attend Pac-12 events."
Arizona guard Dylan Smith was asked before the announcement about how he would feel playing in a mostly empty arena.
"It's crazy, March Madness, you always see big games, big arenas," Smith said. "But it's a safety precaution. The coronavirus is a serious thing. You've got to wash your hands and bathe and hope not to get it."
Wednesday's games were played in front of the sparse crowds that usually make up opening day, though with a noticeable bump from Arizona playing the 2:30 p.m. game.
Washington fan Floyd Rogalski, 43, said before the announcement that he "would be very disappointed" if the Pac-12 decided not to allow fans in the building for games the rest of the week. He is from Seattle, one of the nation's hardest-hit cities, and attends the Pac-12 tournament every year.
"It seems if people use common sense, wash their hands and be clean about stuff, they would be all right," Rogalski said. "It's been a little bit overblown (in Seattle), in my opinion. Today, they had some new rules passed about having fans at gatherings, canceling concerts and Mariners games. I hope this is overboard, but if it's something they've got to do, I guess that's what they've got to do."
Arizona fans Francisco Rodriguez and Yasmin Mendoza, each 50, have spent the past 16 years traveling to the Pac-12 and NCAA Tournaments from their home in Tucson, Arizona. They said they would be disappointed not to travel to see their Wildcats in the NCAAs, but were understanding of the situation.
"If that's what they want and it's better for us, I respect that," Rodriguez said.
Neither was concerned about coming to Las Vegas, but they were making sure to wash their hands and use plenty of hand sanitizer.
Another Arizona fan, Ruben Duarte, is from Tucson but has lived in Las Vegas since 1999. His youngest son graduated from Arizona in 2005, and the Pac-12 tournament is a chance to get together with his Southern Arizona buddies.
"I thought about (the virus), but usually with these early games, nobody comes anyway," Duarte, 68, said with a laugh.
The Pac-12 could send as many as seven teams to the NCAA Tournament, and Arizona is projected to be one of them. The nearly spectator-free Pac-12 tournament could be good preparation for the Wildcats for when they play on the national stage.
"If that's the decision, I'm sure it's very well thought out and in the best interests of these guys," Arizona coach Sean Miller said. "And at the end of the day, that's what counts the most, to protect our players and student-athletes to the best of our ability.
"I'm sure that decision was one that was hard to make, but we'll show up. And if we're part of that tournament, I don't think it will affect our effort. Clearly, it will be different for everybody that's a part of it."
Contact reporter Mark Anderson at manderson@reviewjournal.com. Follow @markanderson65 on Twitter.
Wednesday's games
Oregon State 71, Utah 69 — Jarod Lucas' 3-pointer with 1.8 seconds left lifted No. 8 Oregon State past the No. 9 Utes.
The Beavers (18-13) play top-seeded and 13th-ranked Oregon (24-7) at noon Thursday in a quarterfinal.
Tres Tinkle led Oregon State with 19 points. Alfonso Plummer made a conference-record 11 3-pointers and scored 35 points for Utah (16-15).
Arizona 77, Washington 70 — Josh Green scored 19 points to lead four players in double figures for No. 5 Arizona.
The Wildcats (21-11) play No. 4 Southern California (22-9) at 2:30 p.m. Thursday.
Isaiah Stewart led the No. 12 Huskies (15-17) with 29 points.
California 63, Stanford 51 — Paris Austin and Matt Bradley each had 18 points for No. 10 Cal, and Kareem South scored 15.
The Bears (14-18) play No. 2 UCLA (19-12) at 6 p.m. Thursday.
Daejon Davis scored 16 points for No. 7 Stanford (20-12).
Washington State 82, Colorado 68 — CJ Elleby had 30 points, 10 rebounds and five assists to lead the No. 11 Cougars.
Washington State (16-16) faces No. 3 Arizona State (20-11) at 8:30 p.m. Thursday.
McKinley Wright IV had 21 points for the No. 6 Buffaloes (21-11), and Tyler Bey, who went to Las Vegas High, scored 19.