Golden Knights goaltender won't play in Winter Olympics
Updated December 6, 2021 - 10:16 pm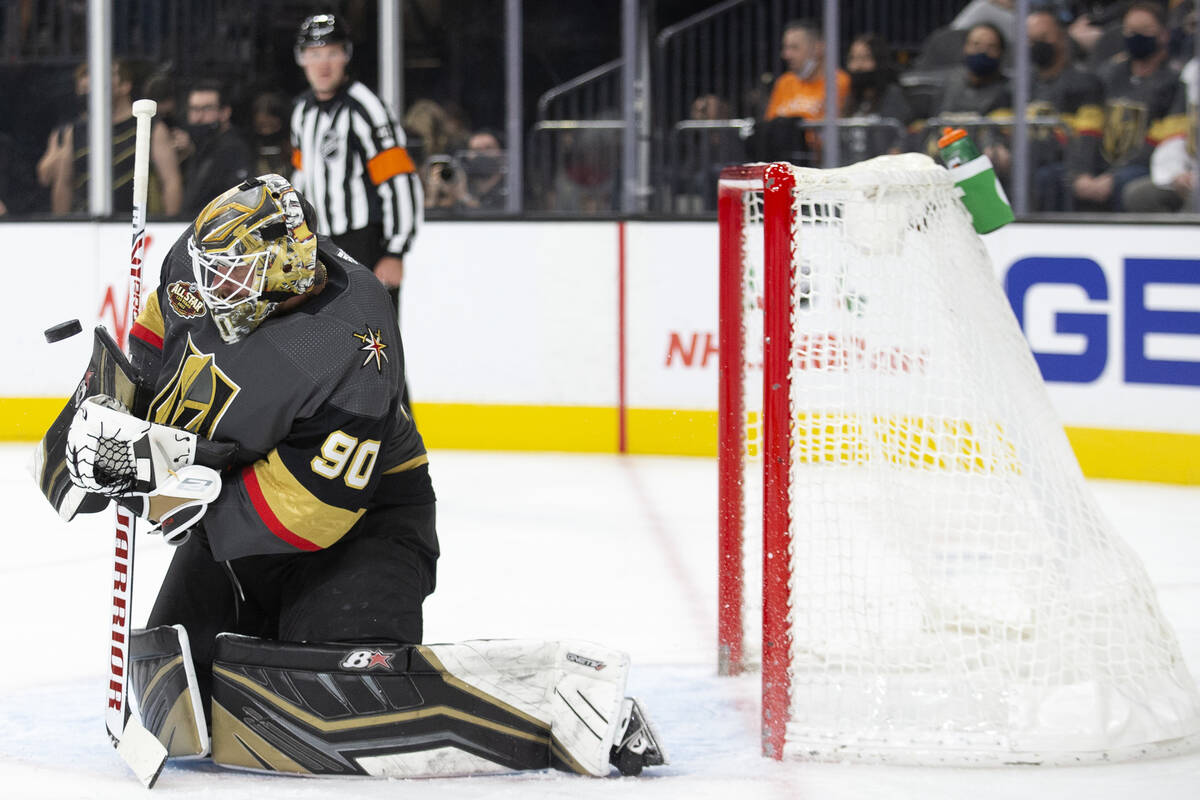 The Golden Knights will not lose a key member of its team if NHL players go to the 2022 Beijing Winter Olympics.
Goaltender Robin Lehner said after Sunday's 3-2 win against the Calgary Flames that he declined the opportunity to play for Team Sweden this February. It could be the first Olympics with NHL players since 2014.
"For health reasons, me and my psychiatrist decided with agents I'm not going to go," Lehner said. "I wish them all the best."
Lehner is one of Sweden's top two goaltenders along with Calgary's Jacob Markstrom, who he beat Sunday. He represented his country at the youth level but has never played at a senior international event. Sweden's net has almost always been occupied by Henrik Lundqvist in recent history, but he retired in August.
The other Swedish NHL goaltenders are Boston's Linus Ullmark, Colorado's Jonas Johansson, and Ottawa's Anton Forsberg and Filip Gustavsson.
Lehner, elaborating on his decision on Twitter, said going to the Olympics is a once-in-a-lifetime opportunity, but he was worried about the restrictions in Beijing. Athletes are expected to be placed in a strict, bubble-like environment to prevent the spread of COVID-19.
Lehner, who has been open about his struggles with mental health and substance abuse, was critical of the NHL's restrictive COVID-19 policies last season once vaccines became available and said they were difficult on him and other players.
Great performance tonight from our team. Have to address I will not go to the olympics. I'm very disappointed and it tough decision for me as it's once in life time opportunity. Reality is that what have been said about how it's going to be is not ideal for my mental health.

— Robin Lehner (@RobinLehner) December 6, 2021
"My well being (has to) come first and being locked down and not knowing what happens if you test positive is (too) much of a risk for me," Lehner said on Twitter. "Sweden will have a great team. Markstrom is a beast."
He isn't the first Las Vegas athlete to skip the Olympics for mental health concerns. Aces star and Australian national Liz Cambage passed on last summer's Tokyo Games, saying the Olympics' bubble setting was a source of anxiety.
The Knights still will likely have plenty of representatives in Beijing if the NHL ultimately goes. Coach Pete DeBoer and director of hockey operations Misha Donskov are on Team Canada's coaching staff and defenseman Alex Pietrangelo has been named to the roster. Captain Mark Stone and defenseman Shea Theodore are strong bets to join them.
Left wing Max Pacioretty could be part of Team USA after playing in the 2014 Olympics. Center William Karlsson will likely be on Team Sweden.
Other Olympic hopefuls include right wings Evgenii Dadonov (Russian Olympic Committee) and Jonas Rondbjerg (Denmark) and left wing Sven Baertschi (Switzerland).
"It's a very personal decision. Every guy that has that opportunity has to weigh the opportunity of playing in the Olympics, which you dream about, with everything else that goes into that pot," DeBoer said. "Family, health, the situation over there and all that stuff. So I think that's real personal to everybody."
There remains a chance the NHL could skip the Olympics. The league has a Jan. 10 opt-out date if it feels the risk of shutting down for three weeks is too great. There have been multiple COVID-19 outbreaks this season. The Senators and New York Islanders have had games postponed.
The decision to opt out would likely be done with input from the NHLPA, which fought for Olympic participation when negotiating a collective bargaining agreement extension in 2020.
"I know I'm getting an opportunity to go and I'd swim over there," said DeBoer, who has been an assistant for Team Canada at the youth and senior level but never at an Olympics. "So that's my opinion."
Contact Ben Gotz at bgotz@reviewjournal.com. Follow @BenSGotz on Twitter.