10 best things to do in Las Vegas this weekend, June 2-4, 2017
Updated June 2, 2017 - 4:27 pm
Las Vegas officially hit triple digits this week, so spend the weekend cooling down. Munch on chilled dishes like Monta Ramen's cold noodles, and wash it down with Golden Tiki's iced rum punch cocktail, the kuuipo.
If you'd rather welcome the arrival of summer heat, head over to Junefest on Saturday to see headliner REO Speedwagon. Or check out the inaugural Scars and Stripes fest where you can honor military veterans while you rock out.
Here are our top 10 picks for what to see, eat and do this weekend in Las Vegas.
Grab a bite
Chefs in Las Vegas are using eggs in just about everything. Jaleo at The Cosmopolitan of Las Vegas serves a sort of taco with a fried egg standing in for the tortilla and a filling that includes caviar, brioche and truffles, when they're in season. Find an egg dish to try here.
The egg taco, with fried egg, caviar, brioche and truffles at Jaleo. Benjamin Hager Las Vegas Review-Journal
Summer has nearly arrived in Las Vegas. Munch on a chilled dish that will cool you down, such as Monta Ramen's ice cold noodles. Served with pork charshu, egg, cucumber, bean sprout and tomato, in your choice of sesame or yuzu sauce, this is a perfect dish to pair with the Las Vegas heat. See more chilly dishes here.
Get a drink
From Las Vegas' most over-the-top tiki bar, The Golden Tiki, comes the kuuipo. The name means sweetheart, and this monster drink was made for sharing. The sweet rum punch drink is served in a hollow pineapple and garnished with abundant mini umbrellas. See how it's made here.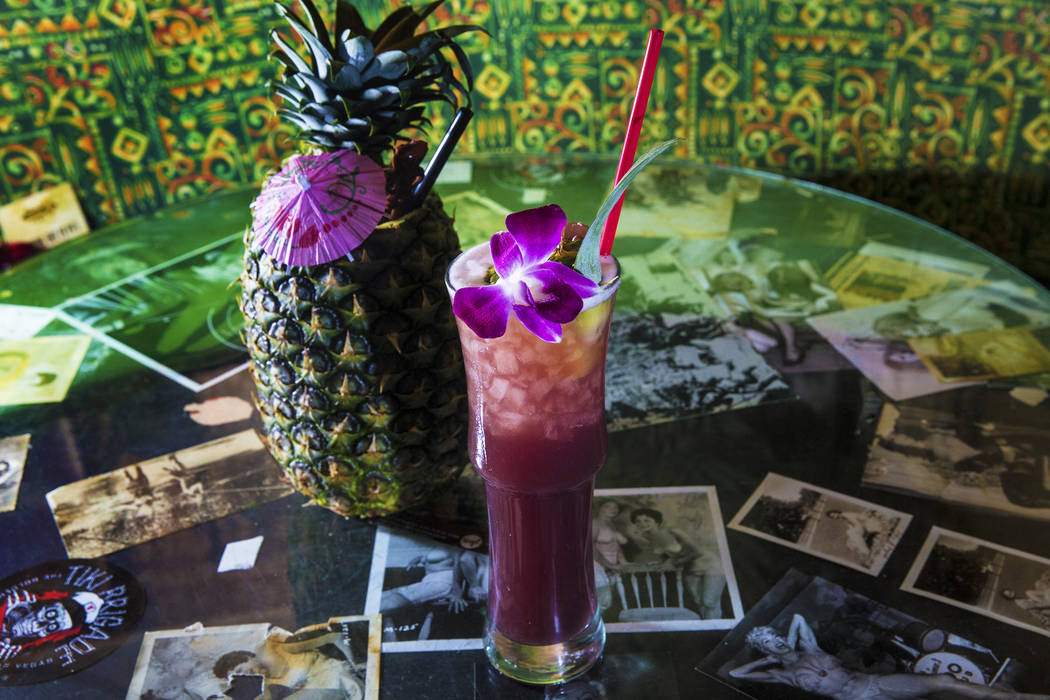 The kuuipo, with J. Wray golden rum, Lejay crème de cassis, pineapple juice, pineapple gomme syrup and lime juice in pineapple at The Golden Tiki. Benjamin Hager Las Vegas Review-Journal
See a show
"Parade," the 12th annual Collective exhibit, showcases a variety of artwork from on- and offstage Cirque employees, from paintings and sculptures to photographs, videos and mixed-media creations. The display continues through the end of June at Neonopolis' Metropolitan Gallery of Las Vegas Art Museum. You can visit the gallery from noon-5 p.m. Wednesdays through Saturdays. Read more about the Collective here.
Rock out
In addition to a 16-band bill loaded with military-friendly acts such as 3 Doors Down (who were once sponsored by the National Guard), Hellyeah, Asking Alexandria, Pop Evil and others, Scars and Stripes will feature charities such as Pets for Vets and the Veterans Transition Resource Center. Scars and Stripes will debut on Saturday at the Downtown Las Vegas Events Center. Some of the proceeds from the gate will go to military causes. Read about headliner Otherwise here.
Catch a movie
After the disappointments of "Man of Steel," "Batman v Superman: Dawn of Justice" and "Suicide Squad," "Wonder Woman" is a gleeful relief. It's two hours of playful patriotism, cheeky chemistry and stunning fight choreography. Patty Jenkins ("Monster") proves what a talented director can do with a superhero movie. She and star Gal Gadot also contribute touches that only women can. Read the full review here.
Stay in
Justin Bieber, Coldplay and Katy Perry will join Ariana Grande at a charity concert, "One Love Manchester," in Manchester, England, on Sunday. Other performers will include Pharrell Williams, Miley Cyrus and Take That. Proceeds will go to an emergency fund set up by the city of Manchester and the British Red Cross. You can watch the full concert live at 2 p.m. EDT on Freeform, Disney's young adult cable network. The concert will also be live-streamed on the main Twitter site as well as via the Grande's YouTube channel and Facebook page.
Link to the YouTube livestream of #OneLoveManchester – https://t.co/zbZoa8kysR

— One Love Manchester (@1lovemanchester) June 2, 2017
Welcome summer at Junefest
REO Speedwagon originally played the 1994 version of Junefest, the band's first of three times at the classic-rock festival. "I can't imagine a world without us. I can't imagine my life without REO Speedwagon," lead singer Kevin Cronin says. "It's just been a part of my life for the majority of my life."
Saturday welcomes the three-band lineup (REO Speedwagon, Don Felder and Martha Davis and The Motels) on the lawn of Sunset Station. Gates open at 5 p.m. Read more about REO Speedwagon's return to Junefest here.
REO Speedwagon in concert at the Huntington Center, Toledo, Ohio, America. Rex Features via AP Images
Celebrate Sgt. Pepper Day
On Thursday, fans of The Beatles celebrated the 50th anniversary release of "Sgt. Pepper's Lonely Hearts Club Band" in Las Vegas and around the world. Fans are invited to pose in front of a photo outside the Love Theater at the Mirage throughout June. Find out more here.
Vladimir Sosnine, who plays "Sgt. Pepper" in Cirque du Soleil's "The Beatles LOVE," poses for photos. Chase Stevens Las Vegas Review-Journal
Learn some "Sex Tips"
Kendra Wilkinson and Jai Rodriguez opened the off-Broadway comedy "Sex Tips for Straight Women from a Gay Man" on May 27 at Paris Las Vegas. "Everything's music and dancing (on the Strip). This is a good mix-up for Vegas," Wilkinson says of a show that's heavy on audience participation. And pretty dirty. See more about "Sex Tips" here.
Bones and Booze
Sundown in Downtown, the Las Vegas Natural History Museum's annual summer fundraiser, has a no-nonsense subtitle: Bones and Booze.
Scheduled for 6 to 10 p.m. Friday at Heritage Park next to the museum, 900 Las Vegas Blvd. North, the event will feature live music, food and, of course, booze.
Small bites will be provided by El Sombrero, Imperial Tacos and Beer, Rachel's Kitchen, Popcorn Girl, Triple George Grill and VegeNation, while the beer garden will feature products from Big Dog's Brewing Company, Great Basin Brewery and Tenaya Creek Brewery.
All attendees must be at least 21 years old.
General-admission tickets start at $35 and include two drink tickets and all you can eat. VIP admission starts at $55. Proceeds benefit the Las Vegas Natural History Museum.
For more information, see www.lvnhm.org.
Contact Janna Karel at jkarel@reviewjournal.com. Follow
@janainprogress
on Twitter.