Las Vegas sees deadliest year, breaks record for homicides
Updated January 7, 2018 - 12:05 am
New Year's fireworks exploded overhead as the Metropolitan Police Department's lead homicide investigator arrived at the scene of the final killing of 2017, the deadliest year in Las Vegas since at least 1990.
According to Las Vegas Review-Journal records, Metro investigated 171 homicides, not including the 58 deaths from the mass shooting on Oct. 1. Even with the massacre's statistics excluded, Metro topped the previous record set in 2016, when its detectives investigated 168 homicides.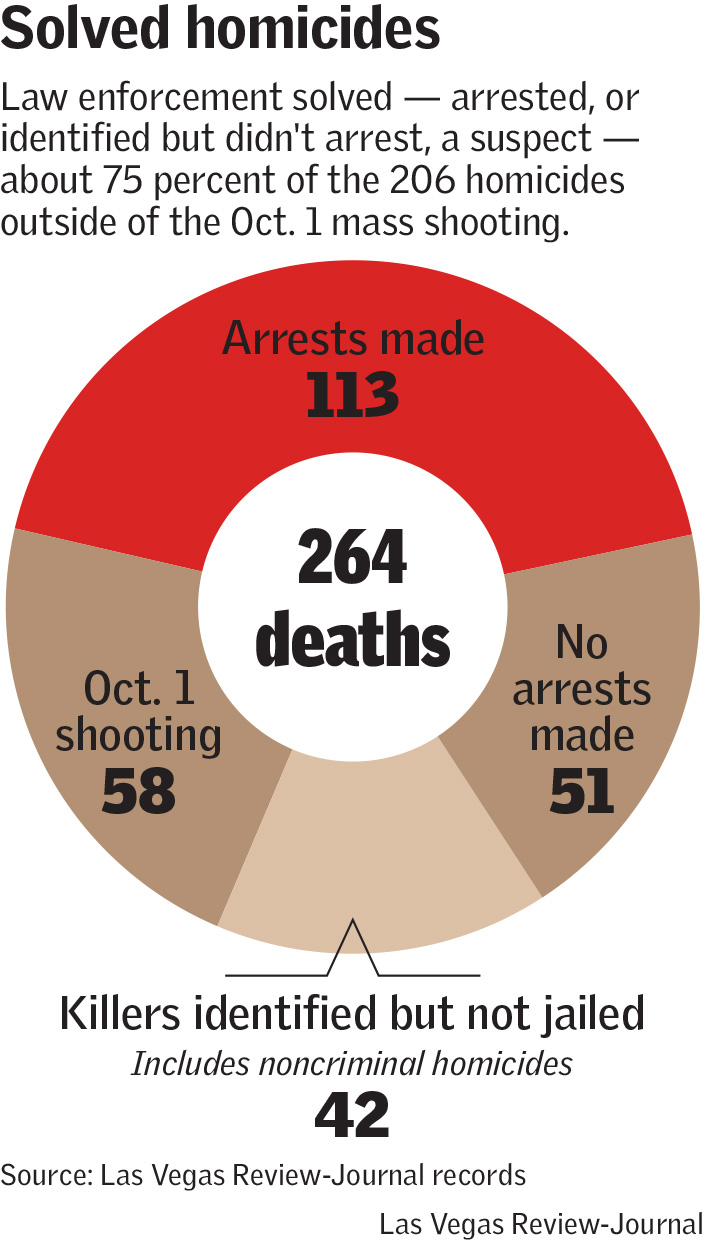 Metro's jurisdiction includes the city of Las Vegas and unincorporated Clark County. A total of 264 people were killed in the entire county last year.
Throughout the year, the Review-Journal tracked homicide investigations by Las Vegas, Henderson and North Las Vegas police departments. Those investigations included the deaths of people killed by police, as well as killings involving accidental shootings and cases of self-defense.
Jaclyn Schildkraut, an assistant professor at State University of New York at Oswego who studies mass shootings, said it's hard to ignore the loss of 58 lives, but mass shootings should be viewed as outliers when analyzing local crime statistics and patterns. She said mass shooting casualties are not indicative of trends in violent crime.
"Not to say it's not sad what happened," Schildkraut added.
Violent crime in 2017 touched all walks of life. The youngest homicide victim was just 25 days old and the oldest 82 years.
They were killed while trying to stop robberies, participating in drug deals, breaking up fights, sleeping outside on sidewalks and even while playing dominoes.
Families were destroyed in murder-suicides, the youngest homicide victim was fatally shot days before his 1-month birthday, and an unarmed man who had committed no crime was strangled by a Metro officer on the Strip.
Neither Clark County Sheriff Joe Lombardo nor homicide Lt. Dan McGrath could be reached for comment on this story. But in the past, Lombardo has attributed the rise in homicides, in part, to a jump in the city's population.
William Sousa, a UNLV criminal justice professor and director of the university's Center for Crime and Justice Policy, also noted that Las Vegas crime rates fail to account for the community's large tourist population.
And while the number of Metro homicide investigations has increased every year since 2012, Sousa said it's not necessarily indicative of a trend.
Gun violence
Review-Journal statistics show that 147 people, about 71 percent of those killed last year in Clark County, died of gunshot wounds.
One of those victims was 37-year-old Daniela Rozada, who on the morning of Oct. 1 was shot in the head by her ex-boyfriend over a custody battle involving their then-4-year-old daughter, Angie.
"It's another instance of domestic violence," McGrath said at the scene. "It's really disturbing and sad."
Rozada worked overnights at Aria, where she cleaned kitchens. The shifts were long, and the work was dangerous, her cousin Obdalia Marroquin said in October. She burned herself in the last year while cleaning a kitchen appliance and had to go to the hospital.
Marroquin suggested Rozada look for other jobs so she could attend family gatherings and get more sleep.
"Until I find a new job, who's gonna pay my rent and my bills?" Rozada would reply.
Rozada, a mother of five, died six days after she was shot.
"I know that she was a really good mom," Marroquin said. "It's really sad for her, for the kids."
Rozada was just one of 45 people killed last year in domestic-related homicides. Of those, 18 involved shootings.
People killed by police
In 2017, the number of Metro's officer-involved shootings more than doubled 2016's count. None of the 22 shootings, which caused 10 deaths, resulted in criminal charges or an officer being fired.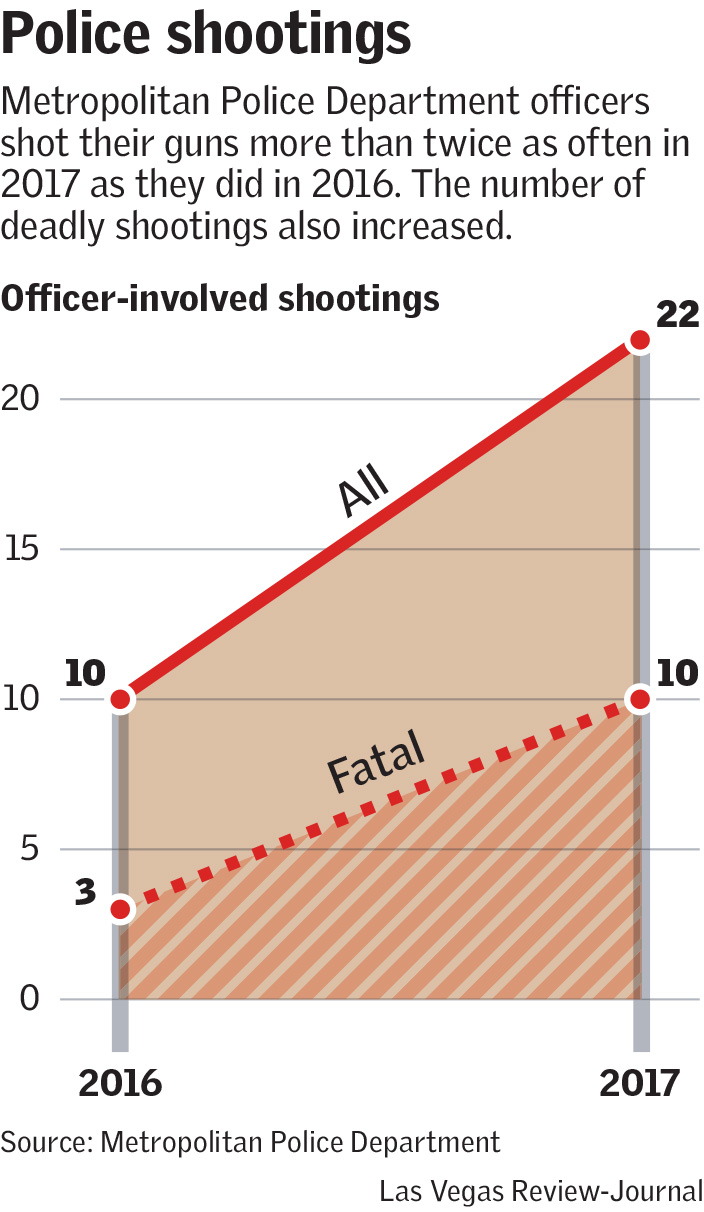 Three people died at the hands of Las Vegas police in 2016.
In a December interview with the Review-Journal, Sheriff Lombardo urged against reading too much into the statistics.
"People get caught up in the numbers," he said.
Lombardo said he instead focuses on the circumstances of the shootings and whether the use of deadly force was appropriate.
In May, one of the department's own was charged with involuntary manslaughter and oppression under the color of office.
Officer Kenneth Lopera shocked Tashii Brown, 40, with a Taser seven times and put him in an unauthorized neck hold on May 14. The Clark County coroner's office later determined that the unarmed black man died from asphyxia because of police restraint procedures, and his death was ruled a homicide.
The North Las Vegas and Henderson police departments did not investigate any use-of-force deaths in 2017.
Homicides since Oct. 1
Sousa and Schildkraut, the criminal justice professors, said it's difficult to draw accurate conclusions based on a short stretch of time, such as the three months after the country music festival shooting.
But before the mass shooting, an average of three homicides was reported each week in Clark County, according to Review-Journal records. In comparison, between Oct. 2 and Dec. 31, the valley averaged nearly five homicides each week.
A particularly bloody end to the year left 30 people dead in December, when law enforcement in the county investigated four double homicides and two triple homicides.
December's uptick in killings ended when Alonzo Wimberly, 36, was shot while trying to climb into the back seat of a stranger's car about 10:50 p.m. He died at the hospital just 20 minutes before the fireworks exploded over the Strip, welcoming the new year.
Contact Rio Lacanlale at rlacanlale@reviewjournal.com or 702-383-0381. Follow @riolacanlale on Twitter. Contact Mike Shoro at mshoro@reviewjournal.com or 702-387-5290. Follow @mike_shoro on Twitter. Contact Blake Apgar at bapgar@reviewjournal.com or 702-387-5298. Follow @blakeapgar on Twitter. Contact Max Michor at mmichor@reviewjournal.com or 702-383-0381. Follow @MaxMichor on Twitter.