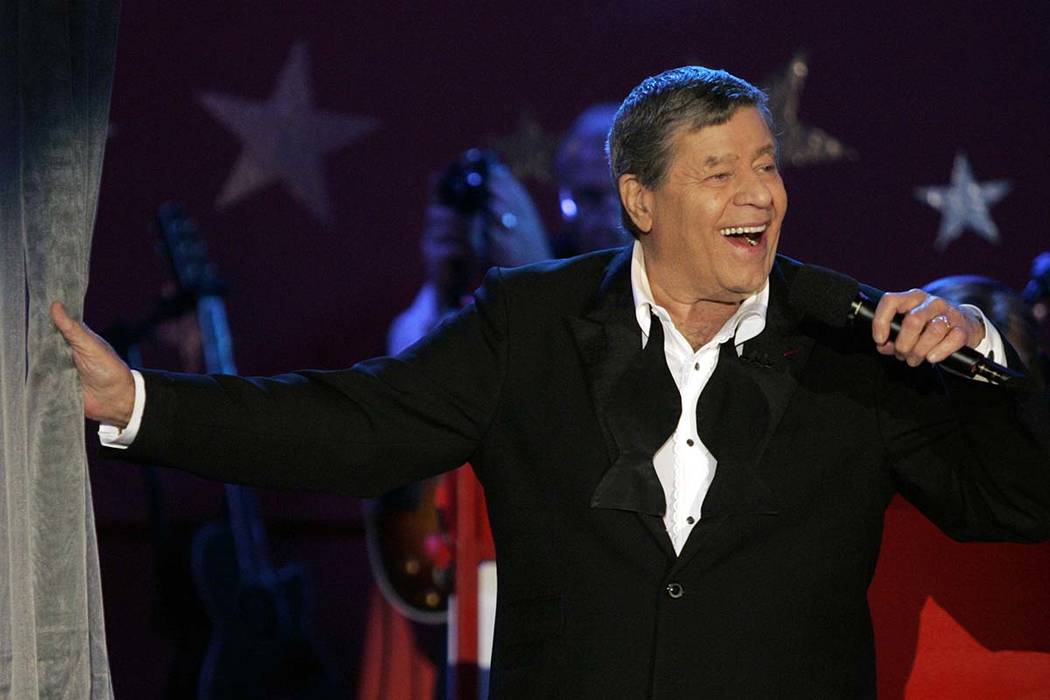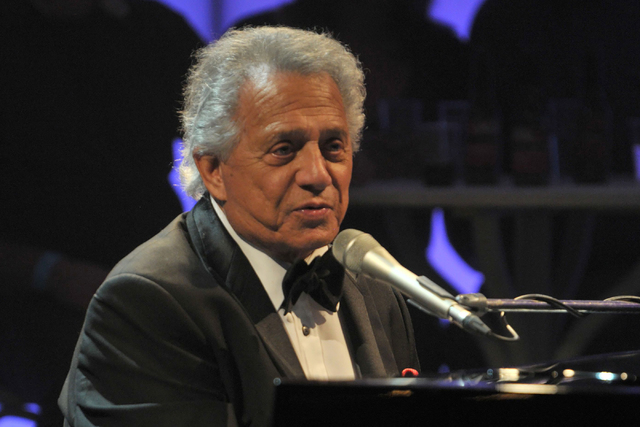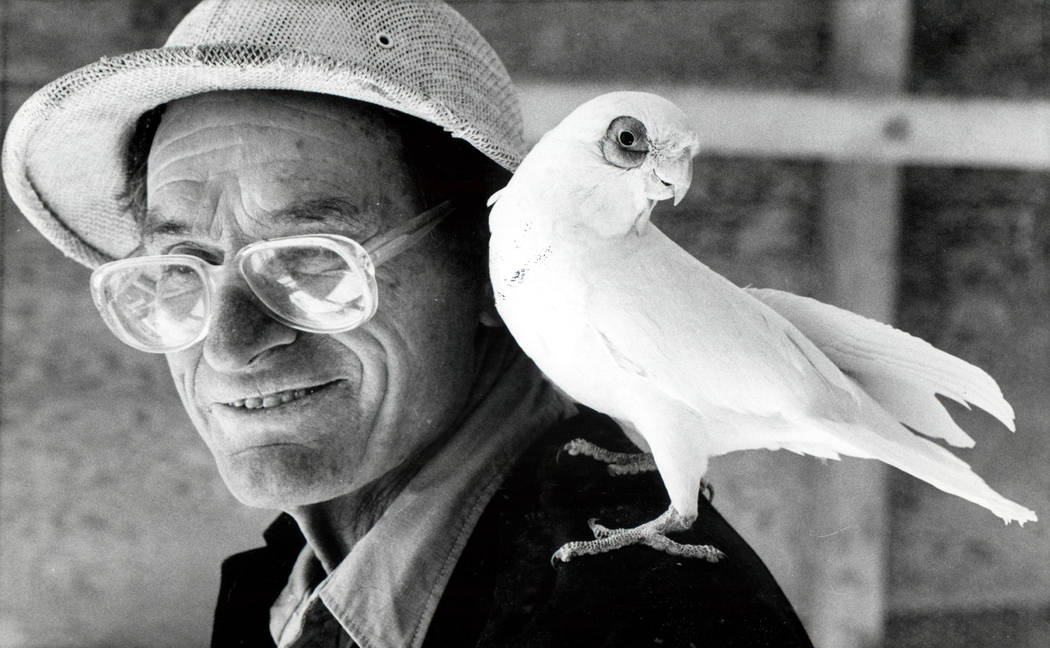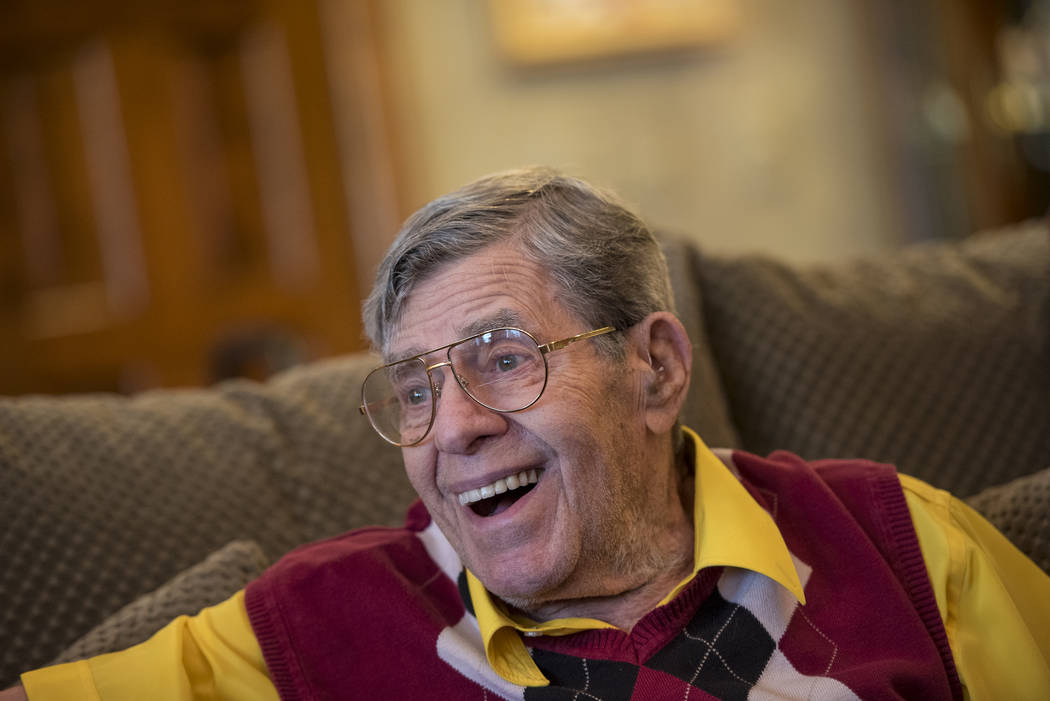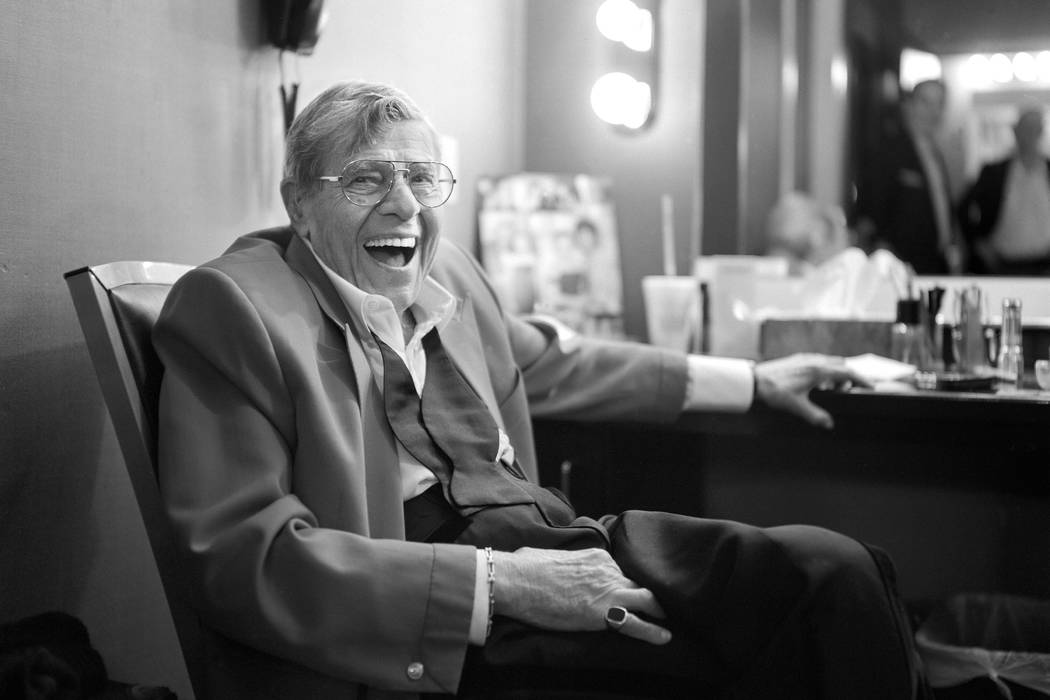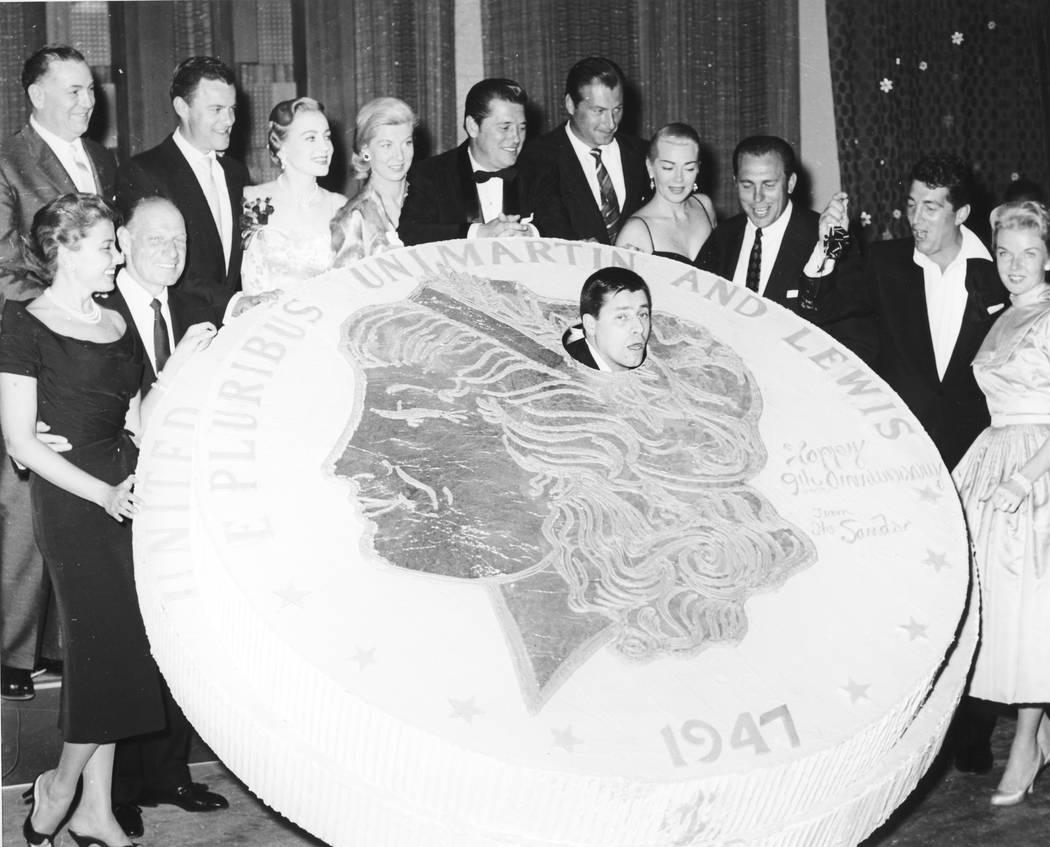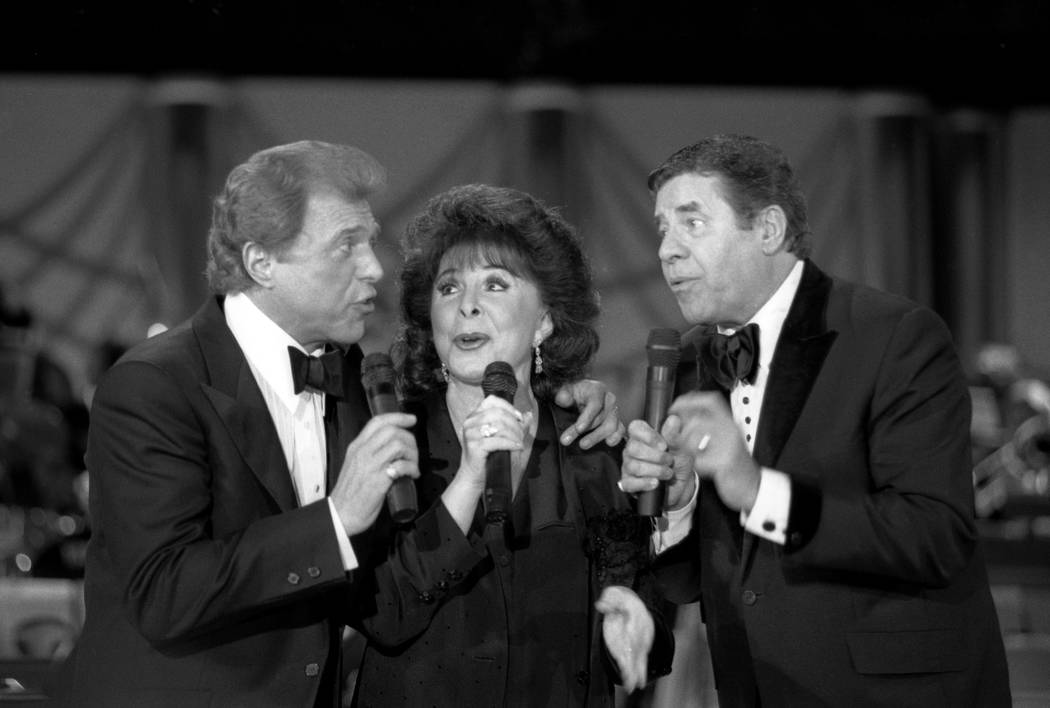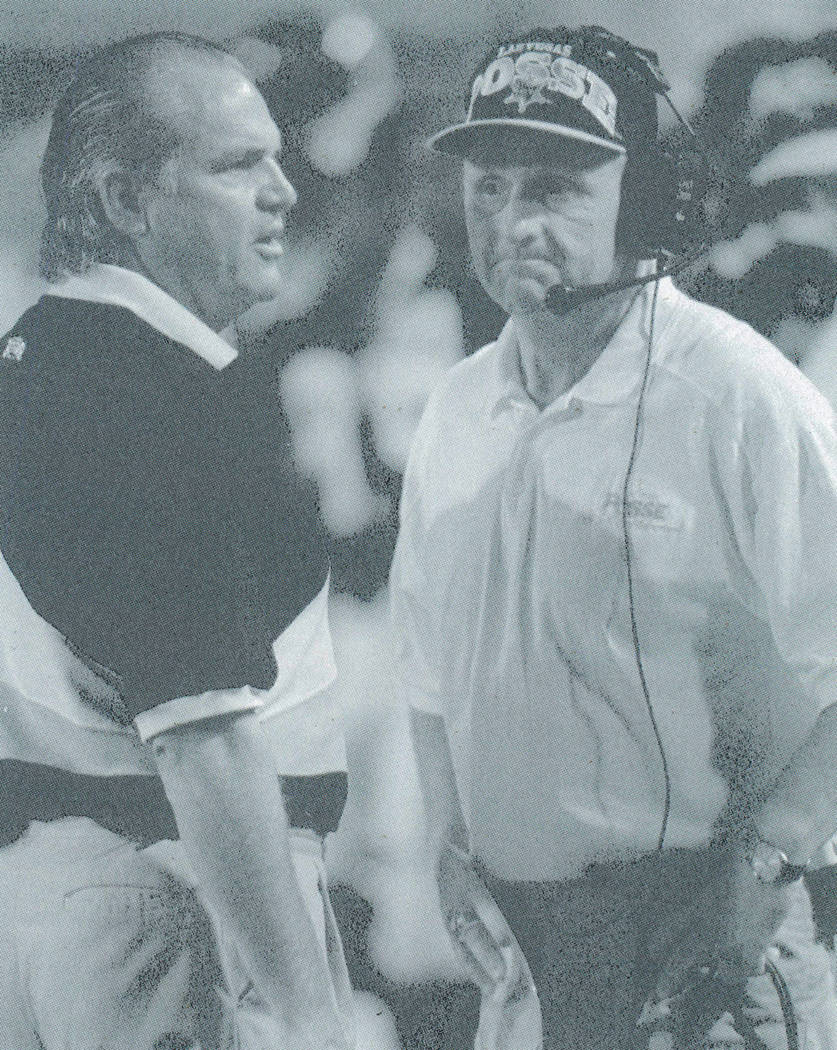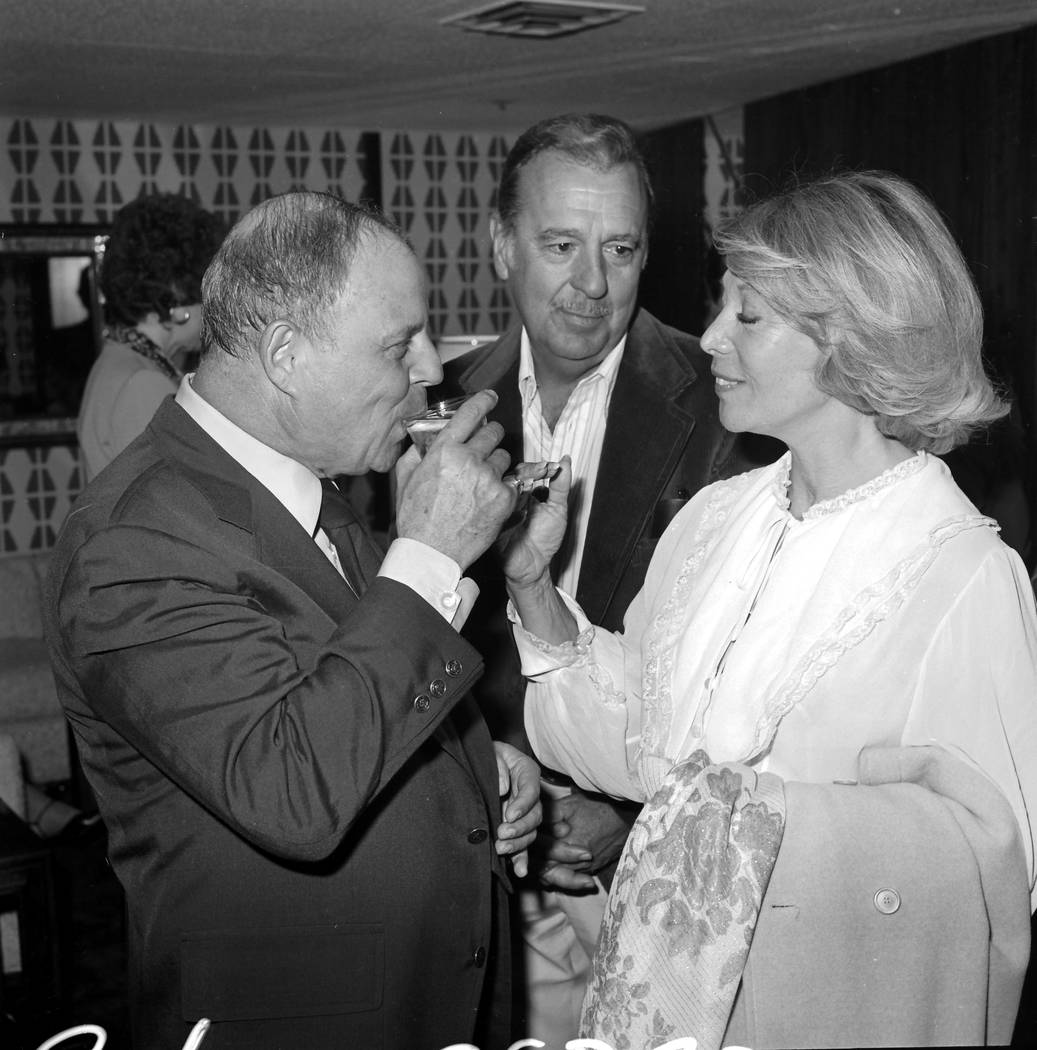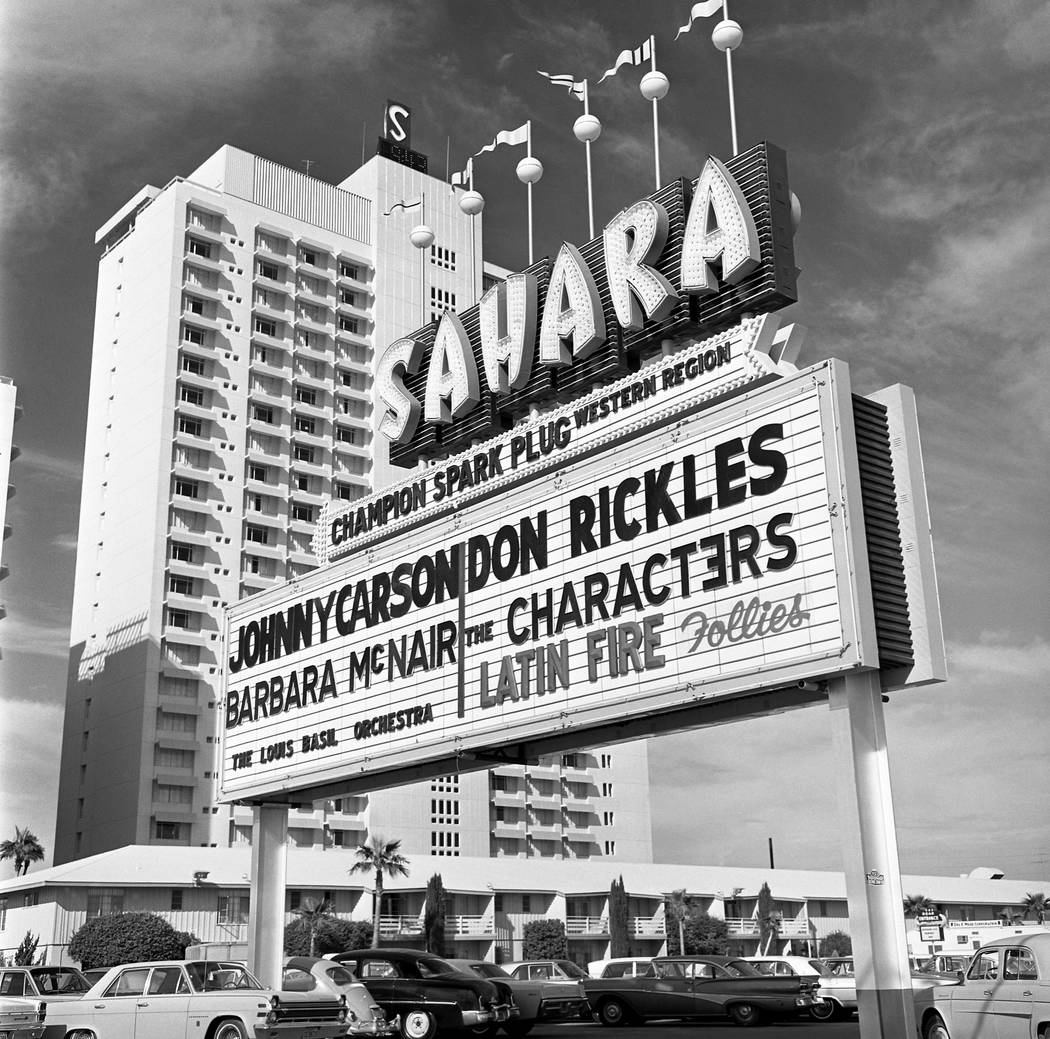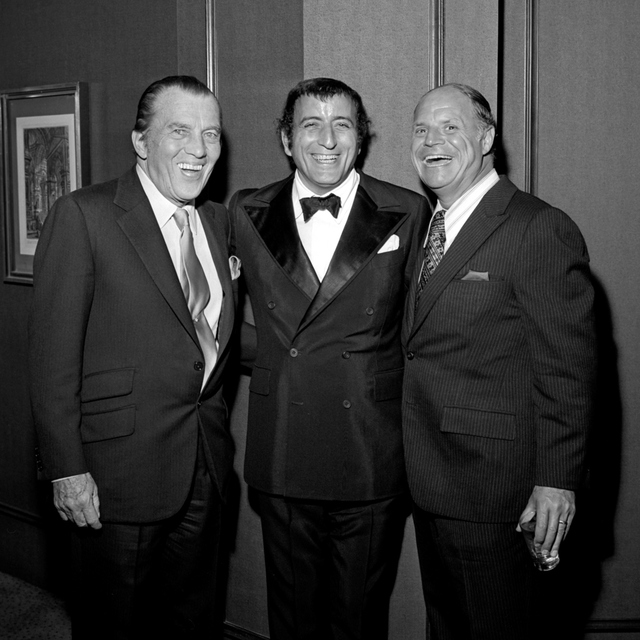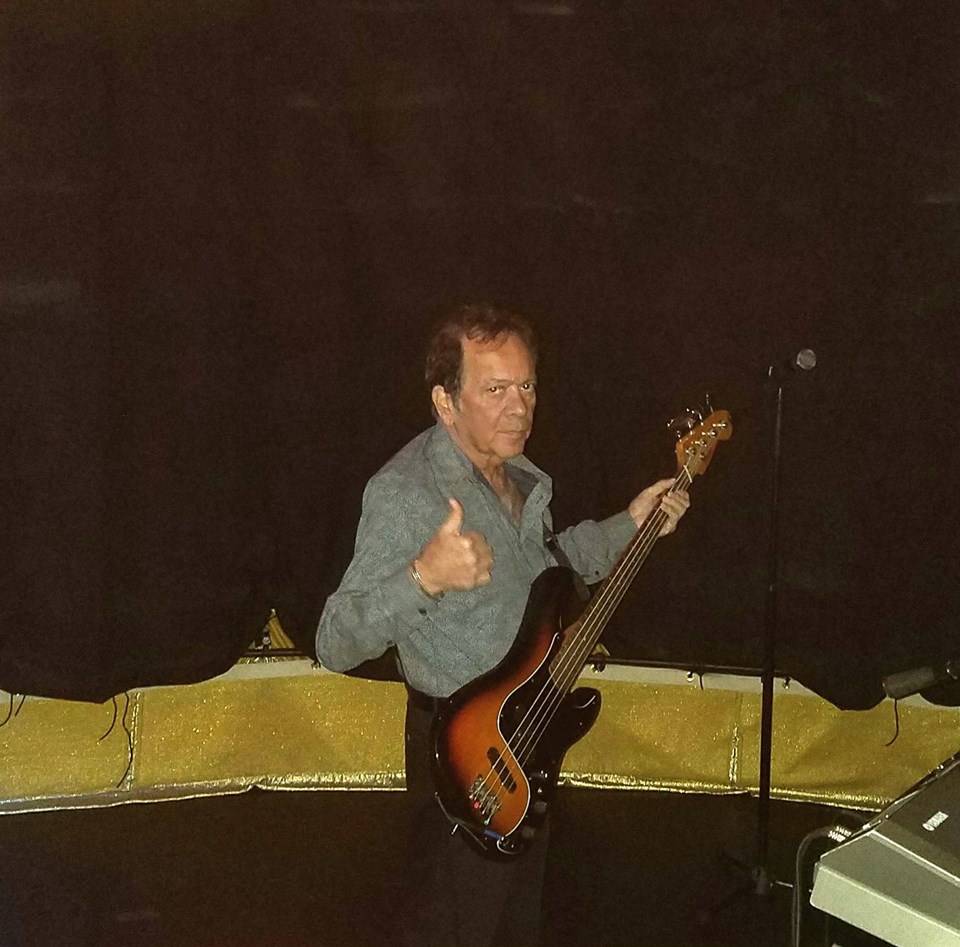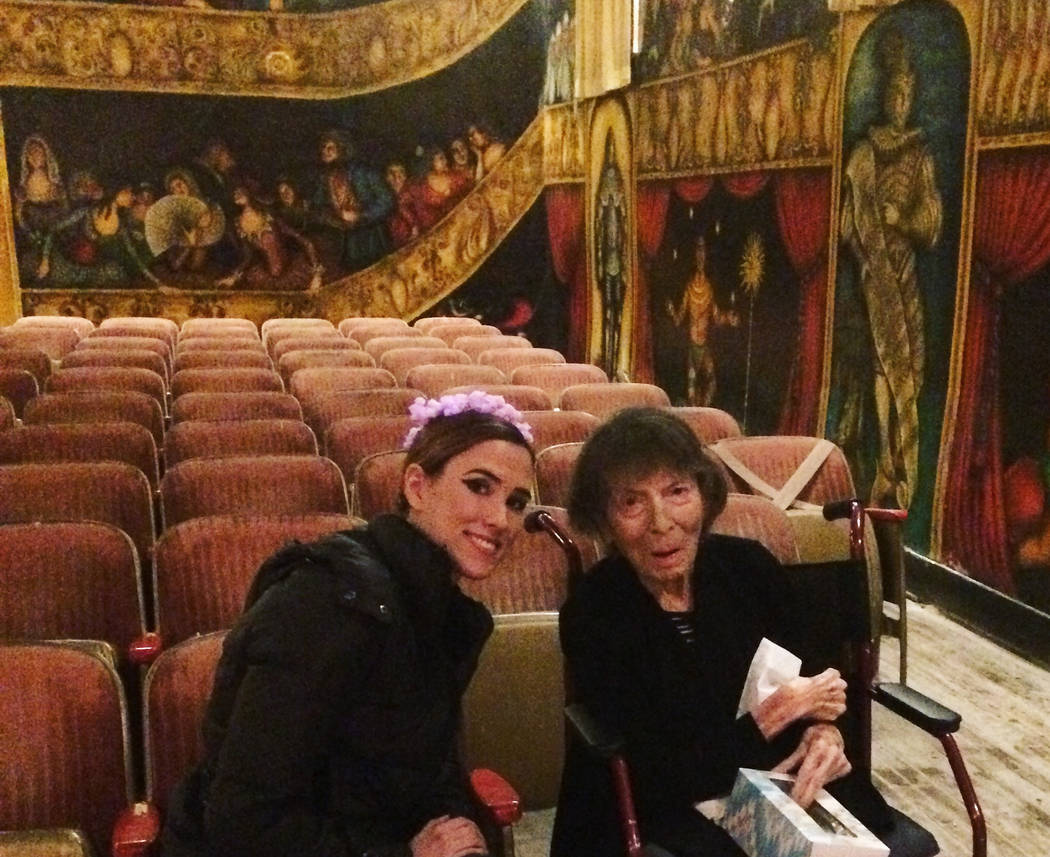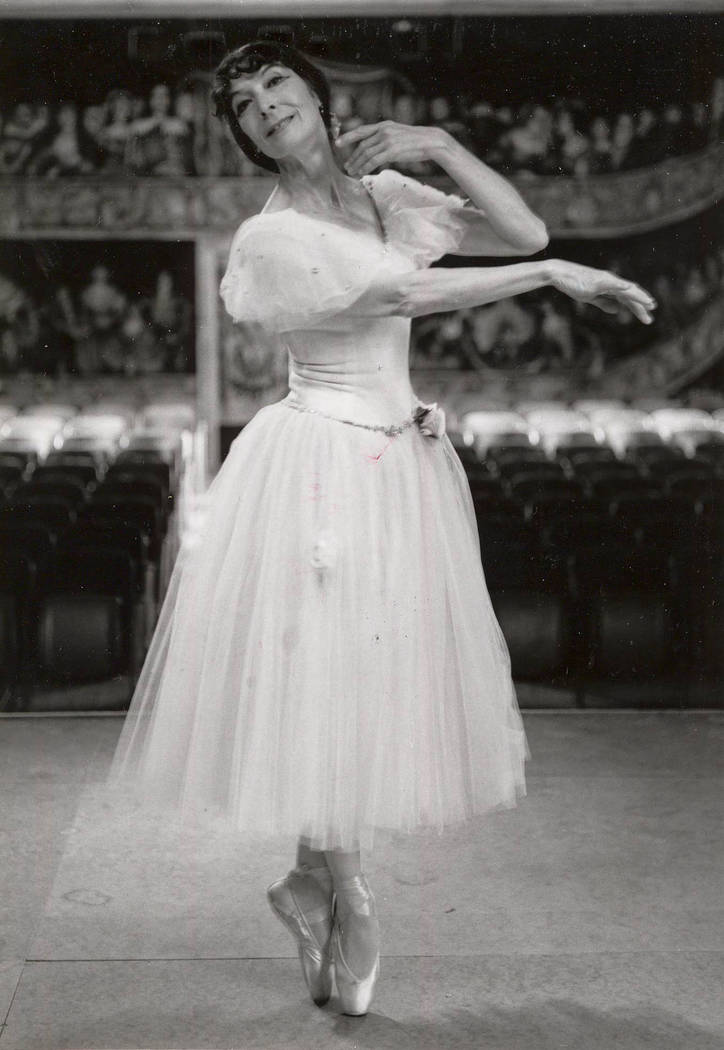 We said goodbye in 2017 to the King of Comedy and a master of insult comedy. We also bid farewell to a former teen idol, two former UNLV coaches and a local civil rights leader.
Then there was the Las Vegas police officer and youth football coach who died in the Oct. 1 mass shooting. All left their mark on Las Vegas.
Here's a look at some of the notable figures who died last year:
Marta Becket
Classically trained dancer Marta Becket died Jan. 30 at her home in the near-ghost town of Death Valley Junction. For decades, Becket put on one-woman shows inside the Pacific Coast Borax Co.'s old community hall, which she transformed with her paint brush and her passion into the world-famous Amargosa Opera House.
W. Wayne Bunker
Former Las Vegas City Councilman W. Wayne Bunker died March 14 of heart failure at his home in Boulder City. After college, Bunker became a commissioned Marine officer and was in the fifth wave of the Iwo Jima invasion, receiving the Bronze Star. A certified public accountant, Bunker opened a firm in Las Vegas in 1971. He served on the City Council from 1985 to 1989.
David Cassidy
David Cassidy, the former teen idol who was a pioneer of the long-term star residency in Las Vegas, died Nov. 21 at age 67. The cause of death was organ failure. Cassidy rose to stardom in the '70s on "The Partridge Family," a TV show about a fictional family that became a pop band. With the Partridge Family, he released "I Think I Love You," which hit No. 1 on Billboard's pop charts in 1970. His Las Vegas stretch started in 1996.
Donald Clark
The Rev. Donald Clark, a leader in the civil rights movement in Las Vegas Valley, died Oct. 7. He was 84. Clark grew to become a pivotal figure in the civil rights movement in Las Vegas. Alongside fellow activists Dr. James McMillan and Dr. Charles West, Clark successfully lobbied former Gov. Grant Sawyer to start the integration of black workers into the Strip's hotel-casinos in the 1960s.
Dan Currie
Dan Currie, a former Green Bay Packers linebacker and hotel security worker in Las Vegas, died Sept. 17. Currie, 82, was the third overall pick in the 1958 NFL Draft. He was a two-time NFL champion, a three-time All-Pro linebacker and was inducted into the Green Bay Packers Hall of Fame. Following his playing career, he moved to Las Vegas in the 1980s and worked in hotel security for more than 25 years.
Dipak Desai
Dipak Desai, the Las Vegas doctor convicted of murder and criminally neglecting patients in the city's 2007 hepatitis C outbreak, died in prison on April 10. Desai, 67, was serving life in prison with the possibility of parole after 18 years for his conviction on 27 charges, including second-degree murder and insurance fraud.
Lou Donato
Lou Donato, who ran the popular Amber Unicorn Books with this wife Myrna, died Nov. 8 of complications caused by a heart attack. He was 77. A Marine veteran who later took an interest in used and rare books, Donato moved to Las Vegas in 1978, opening several book stores in the city over the next 40 years.
Vincent Falcone
Vincent Falcone, the master Las Vegas pianist and music director for many entertainment industry giants, died March 24 in Torrance, California. Falcone began playing piano at age 3, studied jazz and classical piano before moving to Las Vegas in 1970. Falcone toured for years with Frank Sinatra. He also worked with Tony Bennett, Steve Lawrence and Eydie Gorme, Paul Anka, Robert Goulet, Andy Williams and many others.
Robert Stanley Ferraro
Former Boulder City Mayor Robert Stanley Ferraro died of natural causes April 29. He was 81. Ferraro was appointed to the Boulder City Council in 1976 and served three appointed terms as mayor before becoming the city's first elected mayor in 1999, eventually serving six separate terms in total.
Rafael Garcia
Legendary cutman Rafael Garcia, who worked alongside champion boxers like Roberto Duran and Floyd Mayweather, died Nov. 18. He was 88. Garcia, a native of Puebla, Mexico, started boxing when he was 15 before becoming a cornerman, a position he held for more than 60 years. He was inducted in the Nevada Boxing Hall of Fame in August.
William Gilcrease
William Gilcrease, a lifelong animal lover who founded the Gilcrease Nature Sanctuary and later co-founded a popular pick-and-pay orchard in northwest Las Vegas, died Oct. 24. He was 98.
Buddy Greco
Buddy Greco, the jazz pianist turned Las Vegas showman, died Jan. 10. He was 90. Greco's live career sustained him well beyond his best-known hit, a 1960 rendition of "The Lady Is a Tramp." The singer from Philadelphia recorded more than 60 albums, but was never a major headliner on the Strip, working more in the lounges and smaller clubs. He was inducted into the Las Vegas Entertainment Hall of Fame in 2015.
Charleston Hartfield
Charleston Hartfield, a Las Vegas police officer and youth football coach, died in the Oct. 1 mass shooting at the Route 91 Harvest festival. He was 34. Hartfield worked on the Las Vegas Metropolitan Police Department for 11 years. He coached football with the Henderson Cowboys, one of the area's top youth football teams, and volunteered at Coronado High School, where his son Ayzayah plays football and wrestles. See our tribute to all 58 victims.
John Kell "J.K." Houssels Jr.
Respected gaming leader John Kell "J.K." Houssels Jr. died in April at age 94. Houssels helped establish the city as an entertainment capital, working as a top executive of several Las Vegas hotels and casinos, including the Tropicana, the Showboat and the Union Plaza Hotels. Houssels also worked as an assistant district attorney and was elected to the Nevada State Assembly in 1950.
Irwin Kishner
Longtime Las Vegas developer Irwin Kishner died Sept. 4 at age 84. Kishner spent decades in Las Vegas honing his skills. The properties he developed with his uncle, Herman Kishner, include the Somerset House, Nevada Square, The Monaco and Maryland Square.
Sasha "Pit Bull" Lakovic
Sasha "Pit Bull" Lakovic, a Las Vegas Thunder forward in the 1990s, died April 25 after being diagnosed with inoperable brain cancer in 2016. Lakovic, 45, played in 59 games for the Thunder between 1995-97. The former enforcer scored just one goal in his two seasons with the Thunder, but picked up 497 penalty minutes. He also had a short NHL career and a brief acting career.
Jack Lehman
Former Clark County district judge Jack Lehman, who created one of the nation's first adult drug court programs in 1992, died Sept. 14 in California. He was 89. The program offered drug offenders a year of inpatient and outpatient substance abuse treatment in lieu of prison time.
Jerry Lewis
Entertainer Jerry Lewis, famous for his zany comedy and for raising billions to fight muscular dystrophy, died of natural causes Aug. 20 at his home in Las Vegas. He was 91. The entertainer, who was born Joseph Levitch in Newark, New Jersey, performed in Las Vegas with Rat Packers Frank Sinatra, Dean Martin and Sammy Davis Jr. among others. Lewis co-starred in a nightclub act with Martin, rising to worldwide fame. After they split, Lewis directed and starred in many other films including "The Nutty Professor" (1963). He also was national chairman for the Muscular Dystrophy Association and hosted Labor Day telethons from 1966 to 2010, raising $2.6 billion. Lewis performed on stage for the last time Oct. 2 at the South Point Showroom.
Lois Margolet
Capriotti's Sandwich Shop founder Lois Margolet, who created the popular Bobbie and many other sandwiches while building a nationwide brand, died of lung cancer in Las Vegas on Jan. 12. She was 68. Margolet started Capriotti's in 1976 in Wilmington, Delaware. The company now has more than 100 locations in 18 states.
Rollie Massimino
Rollie Massimino, who coached the Runnin' Rebels for two seasons, died Aug. 30 after a battle with cancer. Massimino, 82, was 36-21 in two seasons (1992-94) in Las Vegas. He was forced out at UNLV after a secret $375,000 yearly contract paid for by boosters came to light. Prior to UNLV, Massimino spent 19 seasons at Villanova, leading the Wildcats to an NCAA tournament title in 1985. In total, he had 816 college wins, also coaching at Stony Brook, Cleveland State and Keiser University.
Comic Ralphie May, a headliner at Harrah's Las Vegas, died Oct. 6 of cardiac arrest after battling pneumonia for weeks. The 46-year-old had been honored two days earlier as Comedian of the Year at the Global Gaming Expo Casino Entertainment Awards show. May launched to national fame as a runner-up on NBC's "Last Comic Standing" in 2003. He performed at Harrah's the night before his death.
Ron Meyer
Ron Meyer, who coached UNLV's football team from 1973-75, died Dec. 5. He was 76. Meyer guided the Rebels to a 27-8 record before he was hired away by Southern Methodist University. He coached in the NFL with the New England Patriots from 1982-84 and the Indianapolis Colts from 1986-91, posting a 54-50 record. Meyer returned to Las Vegas in 1994 to coach the Posse of the Canadian Football League.
Cal Potter III
Cal Johnson Potter III, a Las Vegas civil rights, criminal defense and personal injury attorney, died Nov. 22 of a rare form of brain cancer. He was 64. Potter, who began practicing law in Las Vegas in 1979, was known for taking on powerful entities, such as the Metropolitan Police Department.
Don Rickles
Don Rickles, whose acerbic insult comedy was a Las Vegas mainstay since 1959, died of kidney failure April 6 at his home in Los Angeles. He was 90. Though he appeared in films and on TV, Rickles' mainstay was always nightclub performances, appearing in Las Vegas and elsewhere into his late 80s. He found late success as the voice of Mr. Potato Head in the "Toy Story" films, and popped up frequently on late-night talk shows. He also guest starred on TV and in movies, including Martin Scorsese's 1995 "Casino."
Tony Sacca
Tony Sacca, a Las Vegas entertainer for more than three decades, died Jan. 30 of a heart attack. He was 65. Sacca arrived in Las Vegas in 1981 with his twin brother, Robert, after developing a song-and-dance act in their native Philadelphia. They first performed at the lounge at the old MGM Grand, now Bally's, and launched the local interview show, "Live From Las Vegas," which grew to two shows. In September, Sacca launched "Tony Sacca's Vegas the Story" at the Windows Showroom at Bally's.
Joey Scinta
Joey Scinta, a stalwart with the popular Plaza Showroom variety act The Scintas, died Nov. 17 at MountainView Hospital after suffering a series of strokes. He was 69. Scinta was known for sharp impressions of Joe Cocker, Mick Jagger and Neil Diamond.