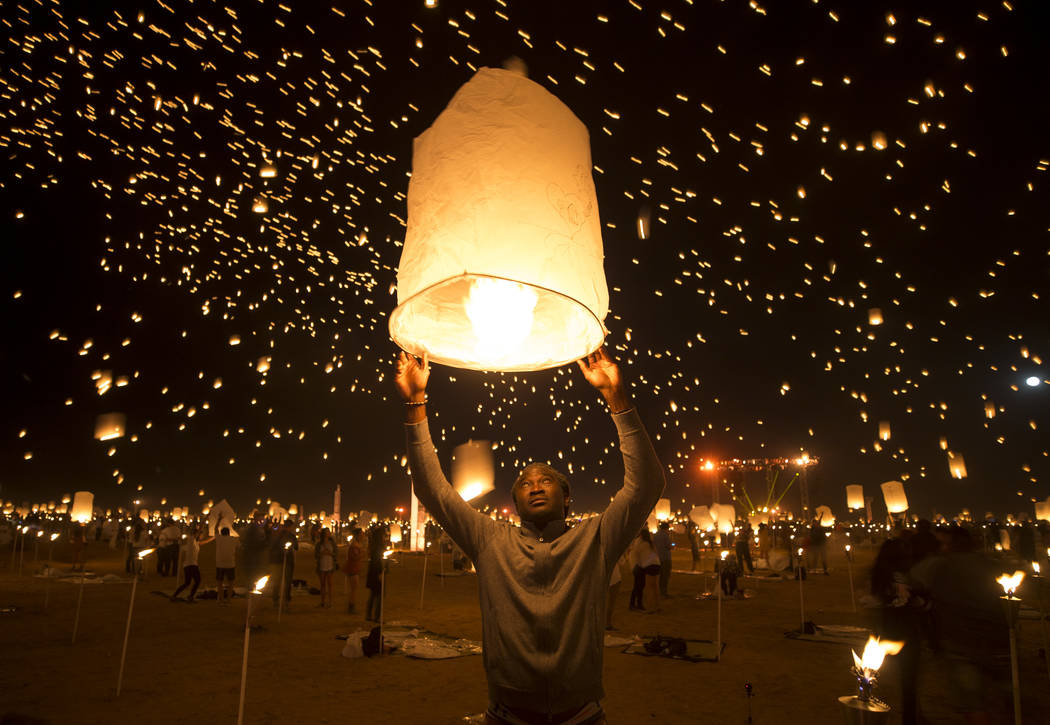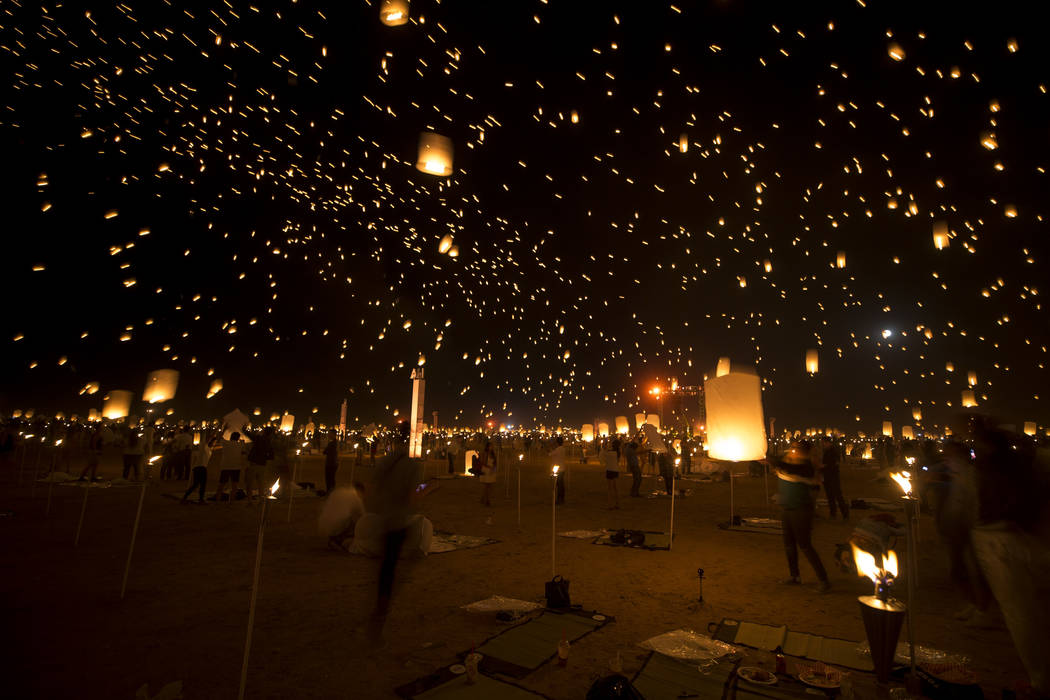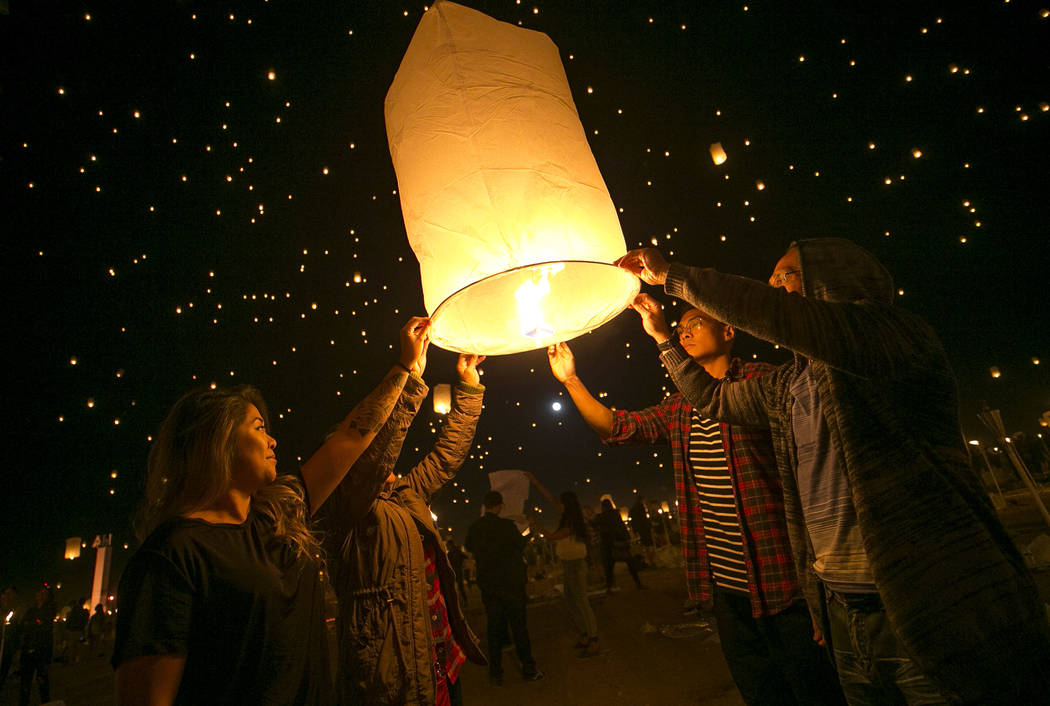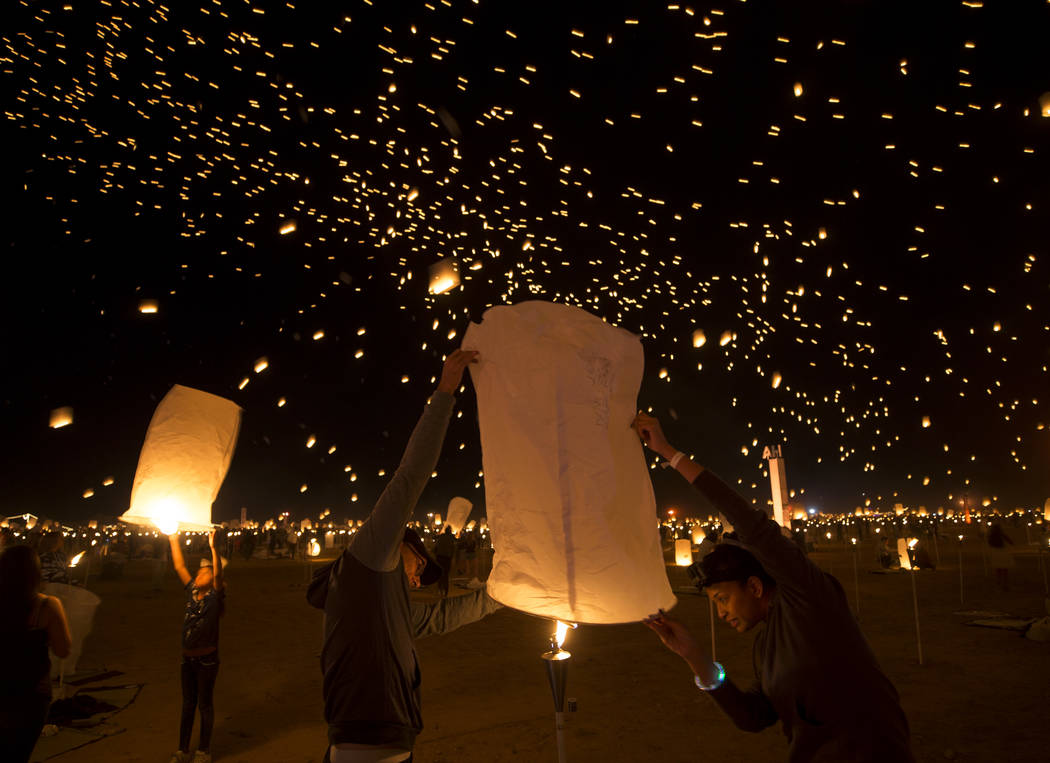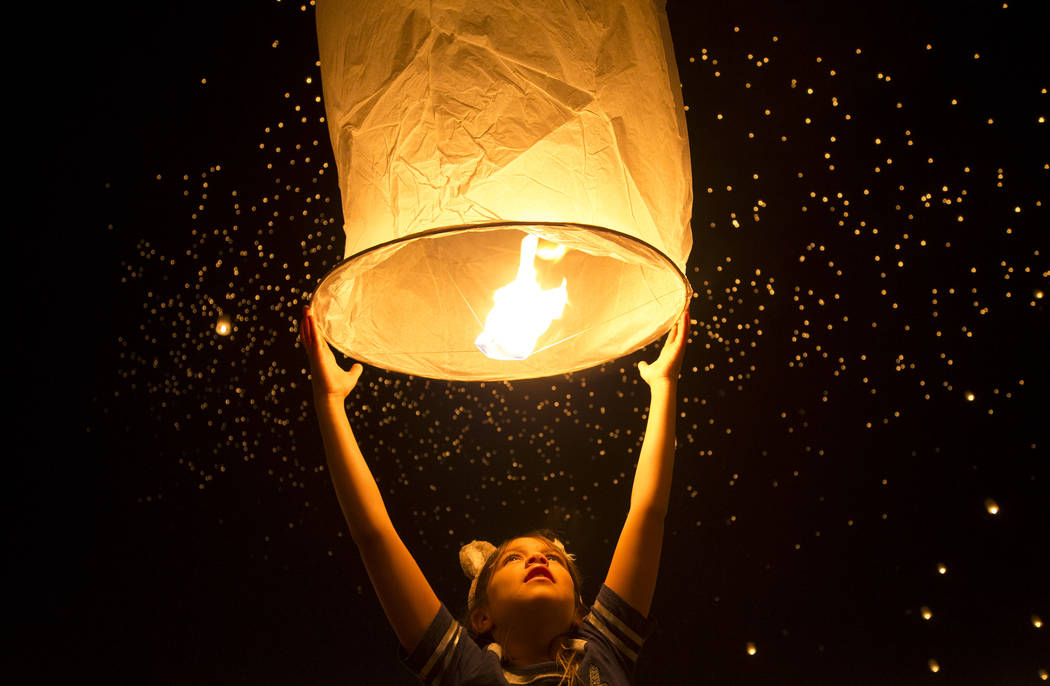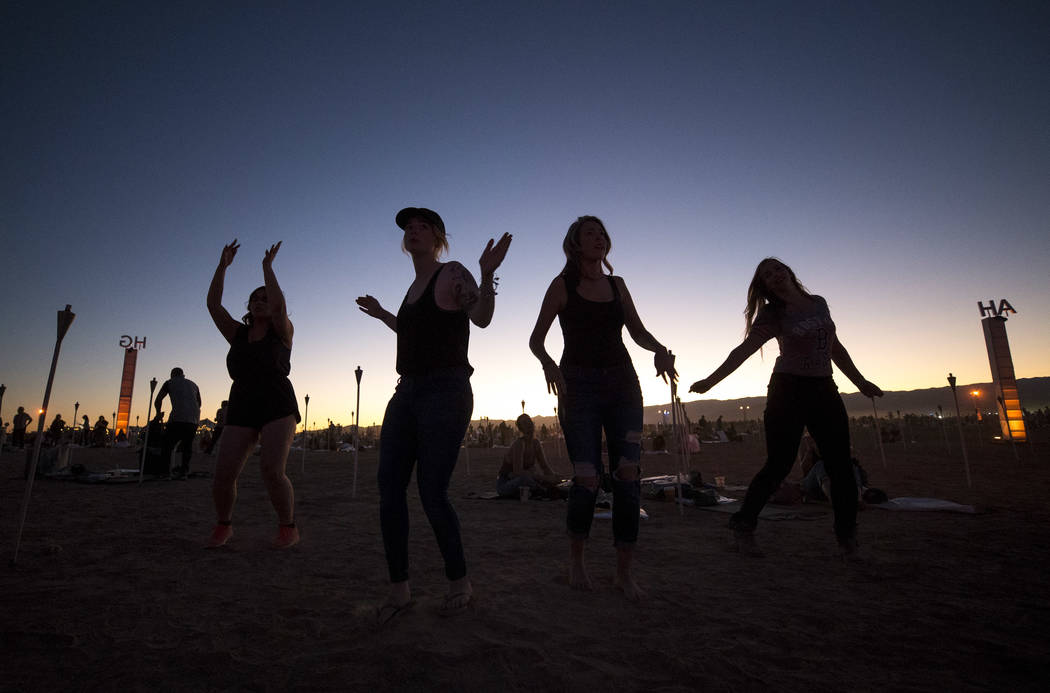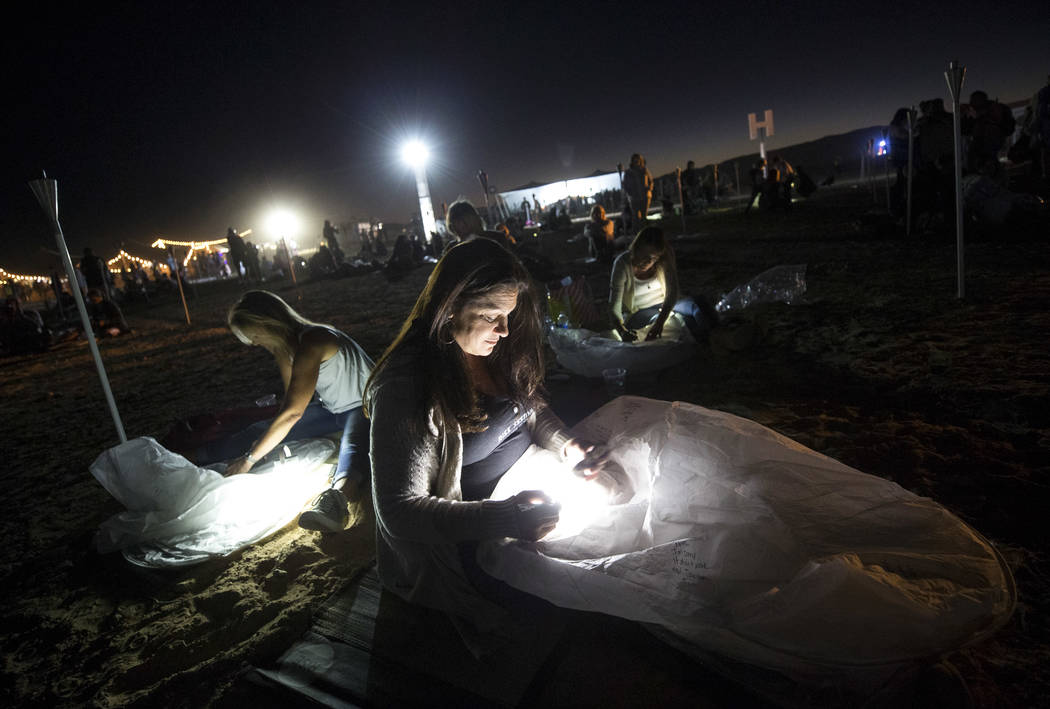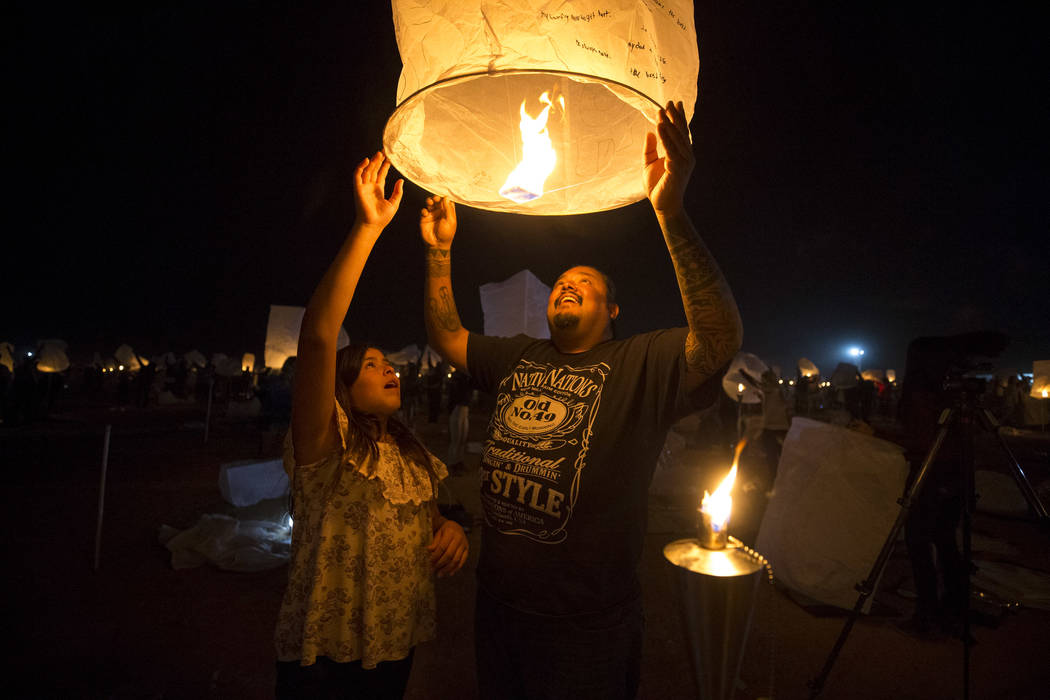 In all that darkness, there was light.
One year after the Oct. 1 attack on the Route 91 Harvest festival in Las Vegas, here are 91 stories of heroism, helping, healing and hope.
THE HEROES
1 Police Sgt. Greg White from Carlsbad, California, used the pocket knife he always carries with him to cut an opening in a nearby fence to help his wife, friends and about 400 strangers escape from the festival grounds.
2 Some wounded victims at University Medical Center elected to wait for treatment so others — mostly strangers — could be operated on first.
3 Sue Ann Cornwell shielded Miriam Lujan and her pregnant belly from the gunfire and, five months later, met the baby boy she helped save.
4 Local bus driver Antonio McLandau, on the job for less than two months, transformed his bus into an oversized ambulance, ferrying about 30 people with gunshot wounds to Desert Springs Hospital Medical Center.
5 Karen Berney and Barbara Godron used the red pickup truck in which they drove to the concert to whisk away several strangers, some of them wounded, from the festival grounds as gunshots were going off.
6 Marine veteran Taylor Winston stole a pickup truck near the festival grounds to drive about a dozen victims to Desert Springs hospital in two trips.
7 Three weeks removed from a nine-month tour of duty in Iraq, Route 91 concertgoer Colin Donohue put his military training and experience to work to help as many people as he could.
8 Six British soldiers enjoying a night off in Vegas after an intense six weeks of training in California jumped into action when they realized a mass shooting was unfolding, each helping several wounded people.
9 County traffic systems technician Raymond Page loaded injured people into his work truck and drove them to the hospital before ambulances were allowed near the concert venue.
10 Las Vegas police officer Casey Clarkson directed concertgoers to safety before seeking medical attention for the bullet wound to his neck.
11 As soon as she made it out of the concert venue, off-duty air traffic controller Christina Stewart warned the McCarran International Airport tower to keep planes and helicopters away from the west side of the airport, where fleeing concertgoers had breached a fence and scurried onto the runways.
12 Las Vegas police officers Meghan Kraut and Andrew Krnjeu worked to "kill the lights" on the festival grounds by unplugging lamps and tipping over anything that illuminated audience members as they hid or tried to escape.
13 With medical units busy with other calls or being kept at a distance, Las Vegas police Sgt. Chris Kennedy and several other officers loaded the worst of the wounded into their patrol vehicles and raced them to the hospital.
14 Nevada Highway Patrol trooper Travis Smaka escorted a group of good Samaritans through traffic as they raced to the hospital with a bloodied family of three in the bed of their pickup.
THE HELPERS
15 After escaping the festival grounds, off-duty Las Vegas police officer Michael Amburgey ran along Interstate 15, recruiting other motorists to get out of their vehicles and form a human chain to open a lane for emergency vehicles.
16 In the hours after the attack, lines of people snaked around local donation centers as people waited hours to give blood.
17 Zappos raised $2.7 million for Route 91 survivors and helped pay funeral expenses for a number of those killed in the shooting.
18 J.H. Williams III and Wendy Wright-Williams created "Where We Live," a 300-page anthology comic book about the shooting that raised more than $100,000 for the victims and their families.
19 Downtown Las Vegas music studio and record store owner Ronald Corso invited select artists into his studio to record covers of country songs for a compilation record benefiting Route 91 survivors.
20 Ron Moore Jr., an Ohio-based artist, dedicated nearly 175 hours of his free time to draw black-and-white portraits of each of the 58 victims.
21 A group of survivors banded together to create Route91Strong, a fund for survivors and victims that delivered its first checks in February.
22 Survivors from Colorado and Las Vegas raised $40,000 to fund gift baskets for Oct. 1 first responders, dropping the care packages off at hospitals around the valley.
23 Members of the Las Vegas Modern Quilt Guild banded together to create more than 250 handmade quilts for Oct. 1 survivors and victims' families.
24 Ride-hailing service Uber offered free rides on Oct. 2 for people who needed to visit hospitals, reach the family reunification center or donate blood.
25 Local bands The Killers and Imagine Dragons joined Cirque du Soleil performers and other artists for a benefit concert at T-Mobile Arena in December that brought in more than $700,000 for victims.
26 Several DJs who headline on the Strip teamed up for an Oct. 1 benefit concert, and one of them, Tiesto, donated $200,000 of his own money to the cause.
27 Celine Dion donated the proceeds from her first performance after the attack to Route 91 victims and families.
28 Megadeth bassist Dave Ellefson and several hundred rock fans held an auction and raised more than $10,000 for the Firefighters of Southern Nevada Burn Foundation.
29 The Golden Knights and the NHL made a joint $300,000 donation to victims through the team's Golden Knights Foundation, and players also made a number of public appearances in the days after Oct. 1, including a visit to Metropolitan Police Department headquarters.
30 Dana White gave out more than 1,500 free tickets to local first responders for UFC 216 on Oct. 7, the first major sporting event on the Strip after the attack.
31 Raiders owner Mark Davis arranged to fly about 30 firefighters, police officers and dispatchers from Las Vegas to the Raiders-Los Angeles Chargers game in Oakland two weeks after the shooting.
32 UNLV's Barrick Museum hosted "Identity Tapestry," a three-month installation by San Francisco artist Mary Corey March that commemorated the Route 91 tragedy by allowing visitors to add hand-dyed yarn and statements of identity and experiences to the larger piece.
33 Five local graffiti artists worked together for 17 straight hours to complete a wall "for the angels," a 200-foot-long mural in Summerlin that honors the 58 people killed Oct. 1.
34 Students at Green Valley High School raised about $60,000 by selling custom Vegas Strong T-shirts to more than 130 schools across Clark County.
35 Students and staff at a Mesquite middle school raised more than $4,500 for the families of three Las Vegas shooting victims who worked in education.
36 Las Vegas resident Ken Beck created handmade Vegas Strong plaques, cut into the shape of Nevada, that raised about $18,000 for Route 91 victims.
37 Thousands of cards, signed banners and other messages of support from around the world were sent to Las Vegas City Hall in the months after Oct. 1.
38 Just in time for the holidays, a group of Route 91 survivors organized the collection of money and gifts for victims and their families.
39 Shooting survivor Bart Godinez, who owns Down N Dirty Hat Co., designed a special Route 91 cowboy hat ahead of the holiday season, then gifted the proceeds to Natalie Grumet, a fellow survivor who was shot in the face.
40 Several local tattoo shops designed their own Route 91 and Vegas Strong tattoos and donated the proceeds to victims.
41 Legal Aid Center of Southern Nevada and the State Bar of Nevada offered free legal services to Oct. 1 victims for issues like guardianship, debt relief and employment.
42 Tennessee Titans running back and Las Vegas native DeMarco Murray donated $50,000 in the wake of the attack, half to victims and the other half to Las Vegas police.
43 Las Vegas hotels and resorts provided free stays for shooting victims and families.
44 Miracle Flights, an organization that covers plane tickets for sick children and adults who require out-of-state medical care, expanded its services after Oct. 1 to include shooting victims and relatives.
45 Allegiant Air provided free flights to family members of people killed or wounded on Oct. 1.
46 Local restaurants banded together to help feed victims, their families and first responders at area hospitals and medical centers.
47 More than 80 valley businesses either offered free services or pledged to donate proceeds to Route 91 victims.
THE HEALERS
48 The family of Las Vegas shooting victim Neysa Tonks established a college scholarship in her name for the children of those killed on Oct. 1.
49 Retired carpenter Greg Zanis made 58 wooden crosses and drove them here from Illinois to create a memorial near the Welcome to Fabulous Las Vegas sign.
50 Steve Round eventually ended up keeping watch over the Strip memorial, where mourners gathered to pay their respects and leave photos, notes and personal items on the wooden crosses.
51 An idea from locals Daniel Perez and Jay Pleggenkuhle blossomed into the Las Vegas Community Healing Garden, as businesses donated building materials and volunteers worked to create the public space downtown in just three days.
52 Andre King became the healing garden's volunteer caretaker, spending eight hours a day offering people a snack or a drink or a laugh while picking up litter and watching over the memorials to those who died in the attack.
53 After a delicate, three-hour brain surgery the night of Oct. 1, shooting victim Tina Frost, 27, underwent several more operations in Baltimore before finally returning home to San Diego in August.
54 University Medical Center surgeon Timothy Dickhudt had an operating room reunion with an old neighbor from St. Paul, Minnesota, when the man was brought in for surgery after being shot in the back at Route 91.
55 Off-duty paramedic Benjamin Kole and his on-duty EMT daughter, Rachel, found each other in the Route 91 chaos and worked together to save people.
56 Nurse Dana Rushing and her son, Owen Searcy, ushered people under the main stage and tended to their wounds, far from the festival medical tent.
57 Nurse Lorisa Loy, who was at the festival with her daughter, spent hours loading wounded concertgoers into a stranger's pickup and tending to them during several rides to nearby hospitals.
58 Within 45 minutes of the shooting, 65 crisis-trained volunteers with Trauma Intervention Program of Southern Nevada descended on the scene and area hospitals, offering emotional care and practical support to the families of victims that night and in the weeks to come.
59 About 200 Clark County School District psychologists, nurses, counselors and social workers responded in the early hours of Oct. 2 and assisted local authorities, survivors and the families of victims through the next several days.
60 After the attack, a group of survivors from other mass shootings traveled to Las Vegas to comfort Route 91 survivors.
61 Several organizations offered free counseling in the wake of the shooting.
62 A long-term resource center for Las Vegas shooting victims and families opened within a month of the Oct. 1 attack and later secured enough funding to stay open for at least two more years as it seeks to become a permanent fixture.
63 The friends and family of Quinton Robbins remembered him with a giant "Q" made of rocks on the hillside next to Basic High School's "B" in the River Mountains east of Henderson.
64 The local branch of CSC Security named its training center in honor of employee Erick Silva, who died in the attack.
65 Country singer Cole Swindell opened his December performance in Las Vegas with a recording of musician and Route 91 victim Brennan Stewart covering Swindell's "You Should Be Here."
66 About a week after the shooting, Route 91 headliner Jason Aldean returned to Las Vegas to visit victims at University Medical Center.
67 Country star Dierks Bentley donated blood and hosted a dinner and acoustic set for hospital staff and first responders at University Medical Center in the wake of the shooting.
68 A Nashville-based nonprofit hosted a 90-minute acoustic concert at Sunrise Hospital and Medical Center for those still being treated for their injuries nearly two weeks after the attack.
69 St. Rose Dominican Hospitals waived the medical fees for the 71 Oct. 1 shooting victims it treated at three of its campuses.
70 For weeks, Joyce Bosen and other local yoga instructors hosted free trauma recovery classes for at least 200 Clark County coroner's office employees and Oct. 1 first responders.
71 Brandon Jackson offered free physical therapy to at least a half-dozen Oct. 1 survivors through his practice.
72 Jodi Notch and her sister recruited other therapy dog trainers and owners from around the valley to make daily visits with their dogs to shooting victims at Sunrise Hospital.
THE SURVIVORS
73 Inspired by the officers she saw running toward the danger on Oct. 1, survivor Lauren Card joined the police force in Springfield, Oregon.
74 William King and his girlfriend, Kimberly Calderon, got engaged three months after a bullet missed his heart by half a centimeter and she helped him get to safety.
75 Hundreds of Oct. 1 shooting survivors, their family members and friends flooded the ghost town of Nelson for a free reunion photo shoot in February.
76 Jacquelyn Trujillo, an 18-year-old shooting survivor, graduated from high school and began training for the Army National Guard, prompting her mother to call her a "first responder, with her heart."
77 As a huge fan of country music with the memorabilia to prove it, Samanta Arjune overcame her fear — and the gunshot wound to her leg — to attend country concerts after months of stress and depression.
78 Teenager Marie Langer climbed back into the saddle and found comfort and relief from daily bouts of Oct. 1-related post-traumatic stress disorder on the back of her show horse.
79 Within a few months of the shooting, birth announcements started popping up in online Route 91 support groups, as women who were pregnant at the festival began welcoming the newest survivors into the world.
80 Vanessa Esquivel made Kody Robertson an "honorary uncle" when her first child was born on March 2, because he helped her over a barrier in the middle of the concert grounds during the attack.
81 Five Las Vegas women formed a bond "that will never be broken" after fleeing for their lives together on Oct. 1.
82 Christina Gruber, a 41-year-old triathlete and mother of two, was wounded in both legs on Oct. 1 but returned to running two months later in the Vegas Strong 5K.
83 The week of Thanksgiving, more than 100 survivors gathered in Henderson for a potluck dinner.
84 In December, 18-year-old shooting victim Riley Golgart walked into a warm welcome from friends and relatives at McCarran International Airport after about two months of hard work at a spinal rehabilitation center in Colorado.
85 Three months after the shooting, three Summerlin women returned to the venue, retracing their steps from Oct. 1 with each other there for support.
86 Jovanna Calzadillas made a miraculous recovery from a gunshot wound to the head, learning to walk, talk, eat and drink again three months after doctors told her husband to say his goodbyes.
87 Austin Stout and Katrina Hannah reunited at the Las Vegas Community Healing Garden in January, as Hannah made her first trip back to Las Vegas since she was shot in the back and Stout carried her to safety.
88 Summer Clyburn took a bullet in the back while shielding her wounded fiance and continues to stand by his side as he recovers from his head injury.
89 After not seeing each other in six years, friends Heidi Benson and Hailey Holiday now meet once a week and text daily as they cope with what they lived through on Oct. 1.
90 Whitney Del Rosso and other bartenders who worked the event gathered at Big B's Barbecue to laugh and cry together.
91 Todd Wienke survived three gunshot wounds and returned to Las Vegas a year later to marry his Route 91 companion, Oshia Collins-Waters, in a ceremony set for today.